Top Five Weather Apps for Truckers
February 2, 2019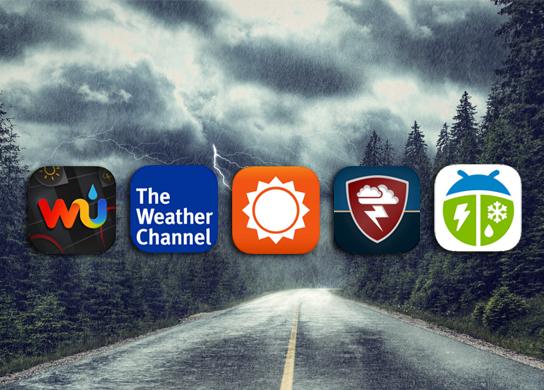 This year's winter weather has just been unpredictable no matter where you drive. Tracking the weather and how it will affect your route is extremely important. There are many apps out there that are weather focused but here are five that are not only free but seem to provide the best information for those that make their living on the road.
The Weather Channel – Available for Android as well as iOS, this app provides everything from temperature, humidity, wind speed, UV index, sunrise and sunset and future forecasts up to 10 days in advance. Featuring interactive weather maps as well as Doppler radar you can also set up alerts and be notified of any type of weather front from severe rain storms to blizzards.
AccuWeather – This app can be found for both Android and iOS and is easy to use. It has a cool feature called MinuteCase that will give you local minute by minute forecasts for up to 2 hours based on your GPS location. The app is great for forecasting the weather in your exact location, but you can also set it up to receive updates from cities you frequently travel through. This app also features the ability to set up customized weather alerts for tornadoes, severe storms and heavy snow.
Weather Underground – This app draws from over 250,000 weather stations and provides in-depth reports on weather conditions by the minute. There is also a crowd reporting feature that will allow you to verify a forecast as well as post one of your own. Users can get an hourly, daily and 10 day forecast with a summary by text. This app was voted as one of the best for rural areas which is great for those of you that drive those out-of-the-way routes.
Storm Shield – This app uses GPS location data from your Android or iOS device. It does not provide the basic forecasting feature, but it will provide up to date local severe or extreme weather alerts. It will also update you with relevant NOAA alerts via voice and push notifications. By using your GPS location, the information is exact to your location within a county and will provide alerts when your location in the county is not within the threatened area.
WeatherBug – This app uses a large network of professional weather stations and provides fast weather alerts, real-time weather conditions and accurate hourly forecasts. Access 18 weather maps that include Doppler radar, satellite map, lightning alerts, precipitation, temperature, wind chill, heat index, pollen and more. You can set alerts and information that you would like to see on your screen.