Married 2 The Road
October 1, 2022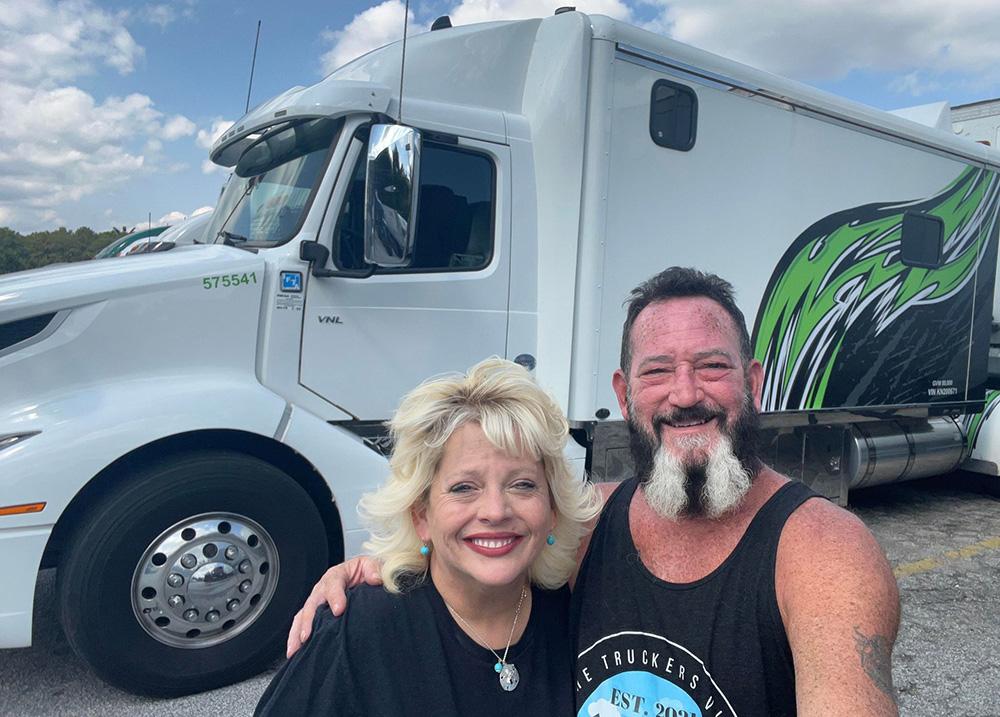 By Angie Baum
Larry and I met like so many other people in today's society, on a dating app. At the time he was an over-the-road truck driver for twelve years, and I was a single Mom to two girls working two jobs. After dating only a few months, Larry popped the question at Christmas in front of about forty of my family members. Trucking was completely new to me and being a newlywed, I was not crazy about spending so much time apart from each other. He convinced me at the age of forty-five years old to go and get my CDL so I could join him out on the road.
Initially, when we started team driving, we were driving for FedEx Ground, and I was trained on doubles. Oh, did I mention that Larry was also my trainer? That made for an intense first two years out on the road. Not only was this trucking all new to me, but also having my OCD husband be my trainer was interesting. The first two years were filled with a lot of arguments and disagreements as we learned how to cope with each other 24/7 in confined living quarters.
For the most part, I do most of the daytime driving while Larry sleeps. Then in the evening we will swap and enjoy a meal together. Larry will take over driving the nighttime shift. The truck is constantly moving unless we are fueling, picking up or dropping off a load, or showering. Adjusting to a work relationship full-time has not always been easy. We are like any other couple; we have our ups and downs. The difference is we cannot just walk away from each other. We are quite literally a team in every aspect. In moments when things are too tense with us, we have learned over the years to separate. One will go to the back of the truck to cool off before hurtful things are said.
The last seven years have truly taught us to work as a team and to have each other's back. Even when we are home during downtime, we want to be together 24/7.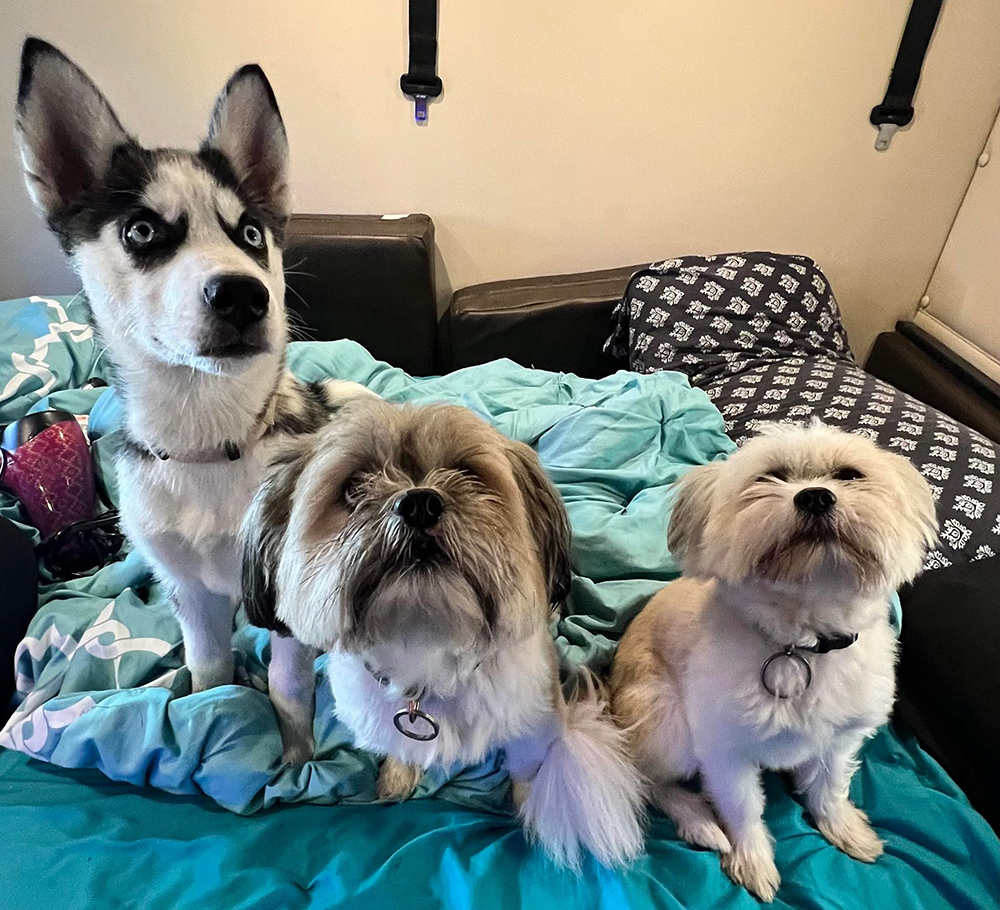 For the last seven years, we have traveled throughout the US and Canada with our two dogs Gizmo and Bandit. We recently added another furry addition to our family, Nova a twelve-week-old husky. As I stated earlier, I started out on doubles since we got all the endorsements and clearances. This allows us to haul special Military, Government, and FBI loads.
Recently, we made the move to a new company called Fluckin Truckin. Not only did the owner see value in us as a team with all our endorsements and clearances, but she also saw the difference we were trying to make in the trucking community and wanted to invest in us. One year ago, I won the Queen of the Road award through REAL Women in Trucking. This led me on my journey to become a board member at REAL Women in Trucking so that I could be a part of making a real difference in the trucking community.
Two years ago, at the height of COVID Larry and I started Treat a Trucker on Facebook. We saw a real problem with truckers feeling under-appreciated and having a hard time finding open places to get meals at. Each week we would take $100 out of our paycheck and buy ten $10 gift cards to Subway, Walmart, or Denny's. We would gift truckers along the way as our way of saying thank you for sacrificing time away from your family and friends. Since we started this, we have received donations worldwide, and have brought in other truckers to help us gift truckers. Now we have gifted over 1,500 truckers in less than two years. We hope to reach 2,000 truckers by end of the year!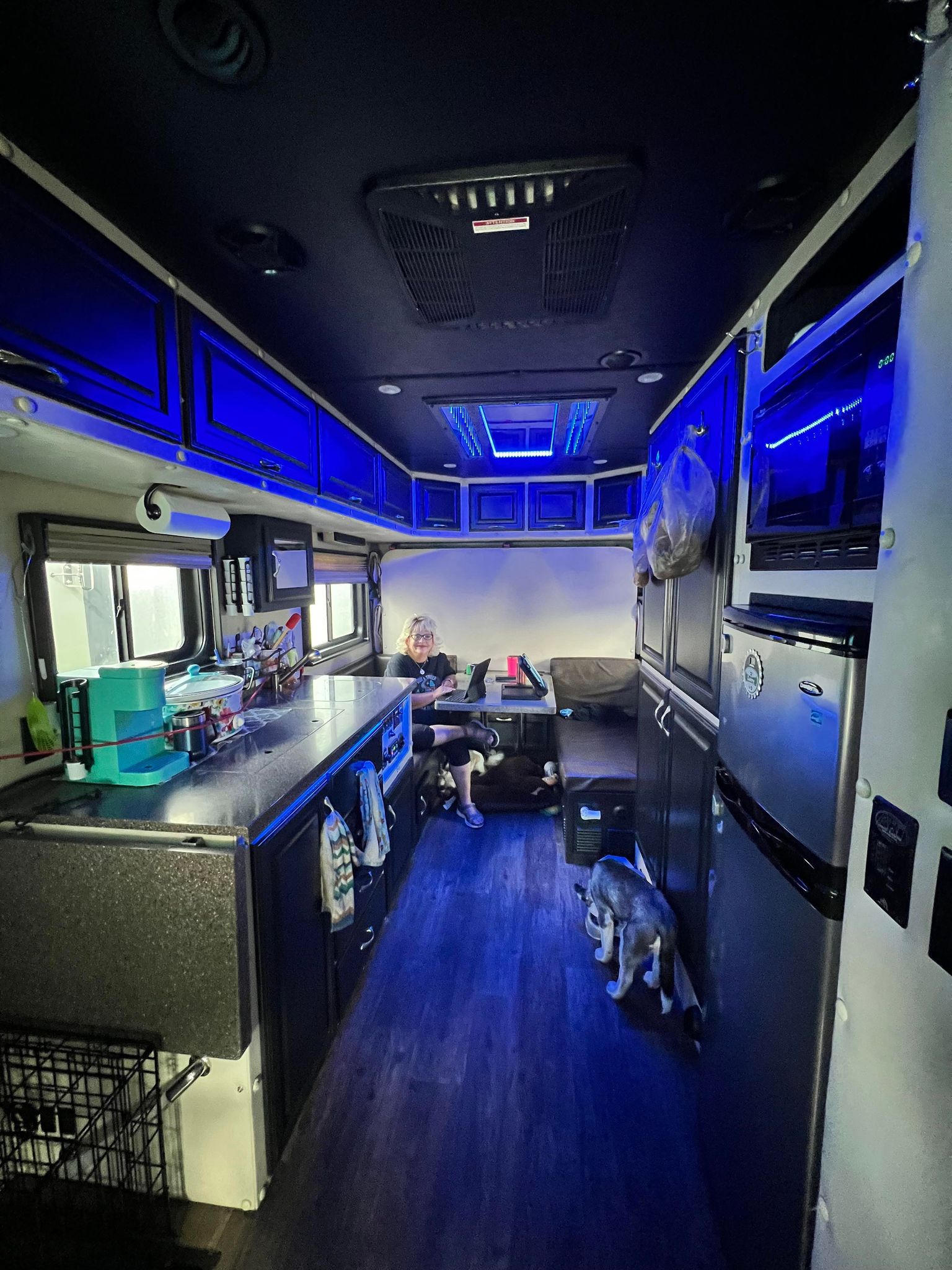 Two weeks ago, we finally moved into our new home! It is an ARI Volvo Super Sleeper, which is quite literally like an RV for truckers. Our current home (aka our truck) is a 180-inch sleeper. It features a fully equipped kitchen with two electric burners, sink, microwave, conventional oven, bathroom with a shower, dining area, and a queen-size bed.
This is something Larry and I have dreamed about for seven years, and it still does not feel real yet. We are currently in the process of listing our home for sale, so we can live on the truck full time to help us save towards our retirement.