Traveling with Your Pet
November 9, 2018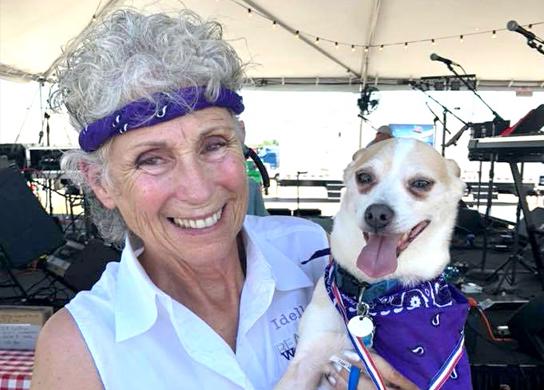 By Idella Hansen
As an animal lover, traveling with pets is a topic that is near and dear to my heart. Lucy and Ernie, my fur babies, have ridden in my truck's passenger seat for years now, making the best company! I am also involved with Operation Roger, a wonderful, non-profit that transports pets with the help of volunteer truck drivers. After years spent trucking with my pups and talking with other drivers, I have learned what is needed to successfully travel with pets, specifically dogs.
My first suggestion is having an ID Tag or Chip for your pet. As much as us owners hate to think about it, your pet could run away and if they do, you want to make sure they can be returned to you. The most common purchase is an ID Tag with your contact information on it. Taking it to the next level, is the chip. I highly recommend you chip your pet. There are a few options to choose from, Home Again is what I got for my dogs at the vet. Home Again is a microchip that goes beneath your pet's skin. Before you freak out, it's the size of a grain of rice and does not cause your fur baby pain. The chip is used to contact you and reunite you with your pet, if they were to run away. The most important part is remembering to register it once you buy it. If you're like me, you may want to put both an ID tag and a chip on your pet, but I would recommend at least one!
From there I would suggest items such as pet lights, step covers and a pet shower nozzle to make life on the road with your pet easier. Pet lights are something I pick up at truck stops and use for our walks in the dark. There are numerous reflective and lighted items for your pets to help keep them safe at night, these are an inexpensive purchase that I highly suggest. A step cover is also very nice to have, as it will keep your feet clean but also help your pets step into the truck. Lucy, one of my pups, tends to fall out on the top step, so these covers help to keep her claws from getting caught or hurting her paws. The pet shower nozzle is one I discovered as a help in keeping my floors, seats and bed clean. Of my two travel companions, Ernie, will walk around the world to stay out of a puddle, while Lucy walks through any and all puddles, since mud is just fine with her. This handy, soft, screw-on nozzle works great for washing mud off grubby paws. While wet wipes also work great, sometimes you need that extra squirt to get them clean!
Lastly, you will want to get a Pet "Emergency" Bag. I have had my "go bag" in the truck since 2012, and it has been a life saver. In my bag, I keep bowls for food and water, food, emergency meds, copies of all records (shots, home again records, etc.), a potty pad and poop bags. You can customize the contents to suit your pet's needs, and may want to consider a t-shirt or sweater if your pet is cold-natured. It's truly handy for grab-n-go situations.
Hopefully these tips are useful to you as you hit the road with your pet. For even more help, I highly recommend joining the Trucking Fur Babies group on Facebook. I have gotten good advice there and they are a very caring and helpful group. Please travel well and safe with your pets!