Holiday Traditions On the Road
December 7, 2018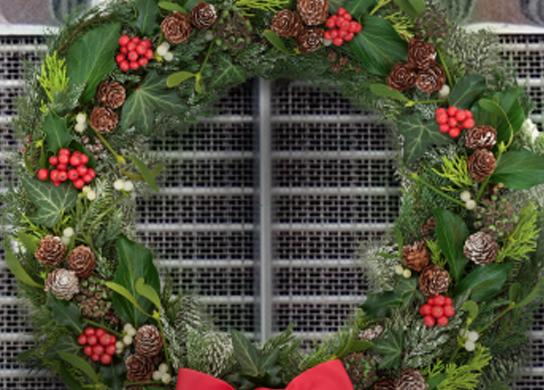 While most of us enjoy time off over the Holidays we all know that there are many jobs that are not afforded the same, including the trucking industry. Freight must move, and goods still need to be delivered. So, if you are on the road over the Holidays and especially Christmas day, what can you do to make it a special? We reached out to a few of our trucking friends to find out.
Allen and Sierra Wilcher have always been out on the road during the Holiday season. "To make the Holidays special we decorate the outside of the truck with Christmas lights" said Sierra, "I also have used wrapping paper and bows and turned the cabinets inside the truck into presents." She also suggested hanging lights inside the truck to make it more festive. If you have a power inverter in your truck you can get the kind that plug in, but if not, there is a large selection of battery-operated options.
The Wilcher's also planned to drive at night so they could have their Christmas lights on. They enjoyed seeing the children's faces light up as they passed the cars. They also enjoy seeing the lights on the houses and buildings they pass when driving at night.
Several drivers we spoke to also hang a wreath on their grill, play Christmas carols on their radio, or treat themselves to a "gift" – like a meal in a nice restaurant or staying in a hotel for an evening. There is also a Santa Tracker App that you can load on your phone to keep track of where Santa and his reindeer will be on Christmas Eve.
Take advantage of technology, you don't have to settle for just a phone call with family or friends. Using Facetime, Facebook or Skype, for example, can put you right at the Holiday table.
As far as being away from the traditional meal – many drivers plan their own traditions while on the road. "Our tradition has always been to try to seek out a Cracker Barrel," said Tamera Sturgis. "It always has the smell of home cooking, the fire place going, people playing checkers and Christmas decorations everywhere." She also commented that everyone is always happy and in a good mood so when they can't be home it's the best place to get in the Holiday spirit.
Being Cuban, Sierra Wilcher has a traditional Lechon Christmas dinner that she makes up in the RoadPro Lunch Box portable stove, while using the slow-cooker to make mash potatoes. She also makes all the other sides to go along with their traditional meal. "It takes a bit of time to get it all together but it well worth it to enjoy a little bit of home on the road," commented Sierra.
Keep in mind you are not the only driver on the road or at a truck stop. Many drivers we heard from make a special point to get out of the cab to either talk to a fellow driver or even share a meal. Don't forget the travel center employees – thank them as they are working to serve you instead of being with their families.
There are also several travel centers that go out of their way this time of year to make drivers feel welcome during the Holidays. Some will offer the traditional holiday dinner, and many will be able to tell you in advance if they plan a special meal or event for Christmas day. Others might offer a discount on meals or free coffee.
So, if you can't be home for the Holidays – make your own traditions out on the road and know that the RoadPro family wishes you a safe and happy holiday season and thank you for making this time a year merry and bright!