Lighting the Way with LUMAGEAR
March 4, 2019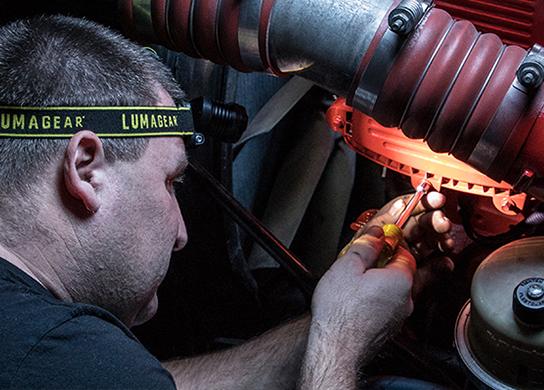 An all-new line up of tactical, specialty, headlamps and value flashlights for the professional driver are now available in travel centers throughout the country. Featuring a variety of options and prices, the LUMAGEAR line provides the confidence you need to be prepared for any situation.
The tactical offering is constructed of aircraft grade aluminum making them light and durable. They are also water and impact resistant featuring an extensive beam distance of 500 meters, with a Cree® XPE bulb that provides 600 Lumens of brighter light output. The tactical line also hosts an adjustable zoom and three modes of operation, high, low and strobe.
The specialty line has a variety of options including a flashlight with a sliding extendable handle that has a COB (chip on board) light and a magnet on the bottom for hands free operation. Other great options in the specialty line include a flashlight with a 90-degree tilt, peel and stick puck lights, pocket clip light and a cap light for hands free lighting.
There are three different headlamps to select from and each feature an adjustable elastic headband. Options include either a 45 or 90-degree tilt for added flexibility and an adjustable zoom to light specific areas that you are working on. The headlamp series also offer a variety of safety operating modes – with a high and low setting as well as a strobe feature.
The value line provides affordable options such as a lantern with a 90-degree tilt and rotating handle with a hanging hook.
The combination of brightness, durability and convenience make LUMAGEAR the right choice in dependability and safety for the on-the-go lifestyle. Featuring superior beam distance, up to 72 hours of continuous operation and multiple safety features, LUMAGEAR is bright and durable for the way you live.