Cooking On the Go - You Can Do It!
March 7, 2019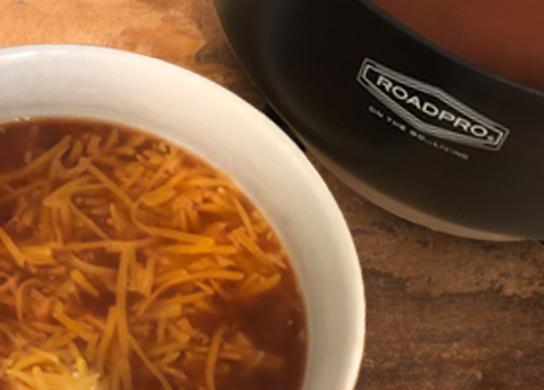 By Casey Hayes, RDN (with Dragonflydiets.com)
What is important to busy people? Time and Money!
Truck drivers are busy people, always on the move. And sometimes it is easier to rest at the end of the day and have someone else cook for you. But it is also important to save time and money. Road Pro offers a line of appliances that help save time and money for preparing food. One of the appliances is the Road Pro Portable Frying Pan.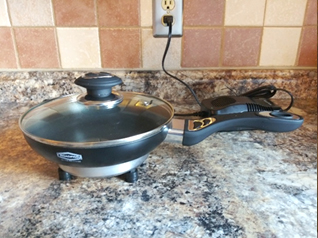 Apparent Pros:
Easy to clean, non-stick surface
Even cooking temperature
Food can be warmed or cooked fully
Small, compact design
Holds 1-2 servings
Tough design
Possible Cons:
The Road Pro Portable Frying Pan is 8" in diameter and includes a glass lid. It reminds me of a small egg pan. It could cook eggs for breakfast or dinner. It easily holds 1-2 servings of food. The unit gets hot as soon as you plug it in, so make sure it is on a stable flat surface, and away from fabrics.
I wanted to test the Portable Frying Pan with an easy family favorite recipe…Pork Chops! This recipe can easily be cooked using chicken instead of pork, but the cooking times may vary slightly. I'm a visual person, so I documented the meal with pictures.
Apple Pork Chops – Cook time: 30 mins
1-2 Pork Chops (10-12 oz total)
Pinch of Salt and Pepper
Half an apple
Half an Onion
Tablespoon of Balsamic Vinegar
Steamed Broccoli – Cook time-(15 mins)
¼ - ½ cup water
2-3 cups of broccoli trimmed
Salt and pepper
Optional granulated garlic
First, I sliced a tart apple, but any apple will do. I noticed that truck stops often have apples available to purchase.
I had purchased Buy-One-Get-One-Free packages of Boneless Pork Chops from a local grocery store. The cost was roughly $1.25 per pork chop. They weighed approximately 5 oz each - 1 serving each. Females should eat 4-6 oz of protein, and males should each 6-8 oz. Roughly the size of the palm of your hand.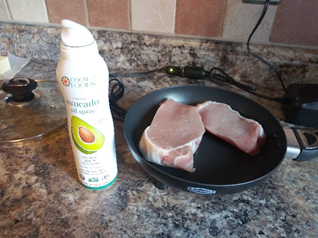 The pan has non-stick coating, so there may be no need for oil, but I sprayed a bit of avocado oil in the pan to begin cooking the pork chops. Season with a little salt and pepper on each side of chop. Cover with lid to hold in heat, since pan only cooks at 1 temperature.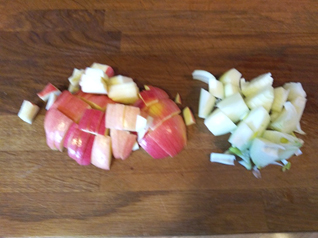 I rough chopped an onion, but chopped onion could be gained from a truck stop hot dog station. Either in packets or can be taken in a to-go dish.
After 5 minutes in pan, porkchops are seared on the bottom side. Flip chops. Cover with lid to hold in heat.
Cook chops 5 more minutes. Both sides are seered, with pink still in middle. They are not at a safe temperature to eat yet.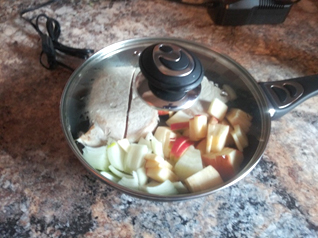 Now we will add half the apple and half the small onion to the pan, and cover with the lid.
It is good to cook with a pocket thermometer, to assure that meat is done, without over-cooking. They are fairly cheap and take up little space.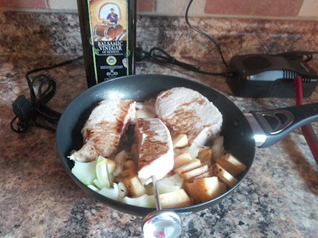 Pork should be cooked to 145 degrees to be safe. After cooking for 10 minutes with apple and onion, pork is measuring 150 degrees. Yum!
For an exciting punch, I drizzled pan with a little balsamic vinegar and cooked for a minute or two longer. * This is optional.
As an added test, I decited to steam some broccoli to eat with the pork.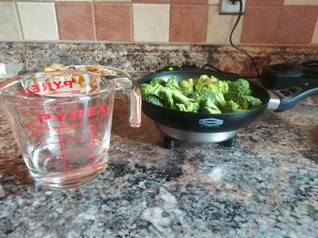 I unplugged the pan and wiped it out with a dry paper towel. Then I plugged it back in and added ¼ - ½ cup water to pan and several cups of broccoli.
Cover with lid to hold in steam.
Cook broccoli for 15-20 minutes with lid on. Salt and pepper to taste. Garlic salt is also excellent on broccoli!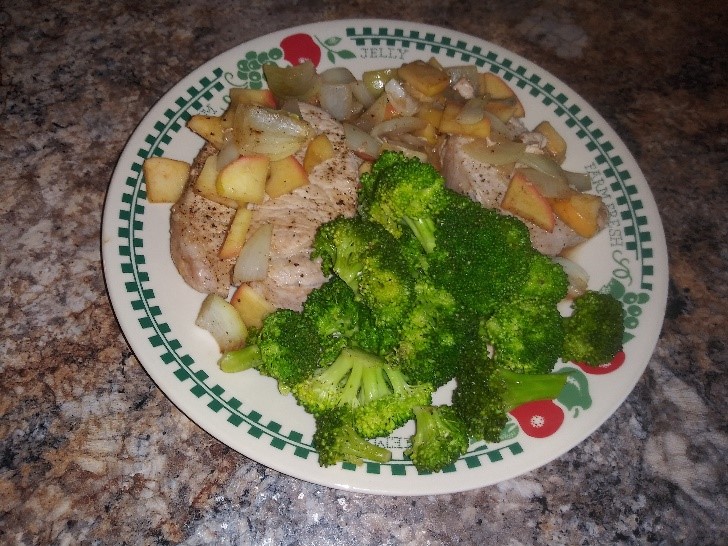 The meal is finished! Enjoy!
This meal was cooked in one pan, under $5 containing a multitude of healthy vitamins, minerals, and fiber, and YOU CAN DO IT!