A Legacy of Trucking Women
May 21, 2019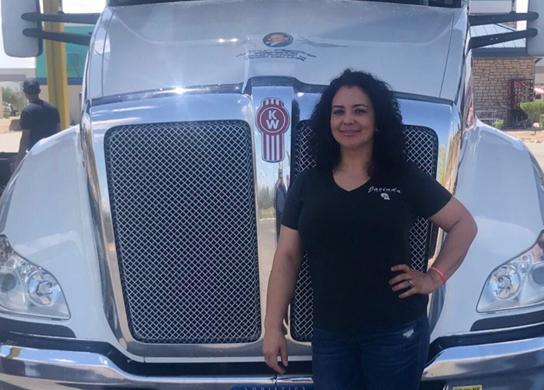 You might say that trucking has always been in Jacinda Duran's blood. How can it not when she is the third generation of women truckers in her family? Her Grandmother was the first to enter trucking and for 50 years worked alongside Jacinda's grandfather operating a moving van line company. Jacinda's mother was a driver for 23 years hauling landscape materials locally while Jacinda and her siblings where growing up.
Jacinda remembered her excitement when her Mom would come to pick her up at school in her truck. She was always so happy to be with her mother who worked hard to provide for them which resulted in long days. But she remembers that her Mom always was there for them making sure they had everything they needed. Jacinda always felt the love and passion both her grandmother and mother had for trucking and admired their work ethic and how they took such great care of their family.
She never thought much about following them into the profession and took a different path in logistics where she remained for 12 years. During that time a career in trucking remained a possibility but it wasn't until her friends encouraged her to get training and give it a try that she finally took the leap. She started driving for Fed X which enabled her to be at home with her children each night. As her children grew, she realized that she wanted more out of trucking than a daily route. Although her time at Fed X was stable – it was also very redundant. One day, she called a family meeting to discuss the possibility of her going over the road full time – if either of her children or her husband had any issue with it, she would not do it. She wanted to make sure she could give 100% to the job, but to also not take away anything from her family. Her children, who she considers her best accomplishments, agreed that she should just 'go do you'. So, with the support of her husband and her mother, she began her over the road career. All with the agreement that if anyone of them would ever need her she would return home.
Her Mom provided great support when Jacinda first started out – not only helping with the kids but also providing her with guidance on how to be safe, aware and vigilant of her surroundings while on the road. Both her mother and grandmother mother raised her to be independent and strong and from a very early age stressed the importance of being hardworking and committed and to never give up. While she has faced some challenges along the way she knows it is nothing like what her mom and grandmother endured. She recalls how her mom told her how she was pressured to leave the industry many times and was often told "this is a man's job" by other male drivers. Jacinda feels she has it far easier today but believes that women drivers need to try harder to prove themselves. Her advantage is the legacy of women truckers in her family and how they have paved the way. Because of them she believes she can do anything.