Home Away From Home
July 24, 2019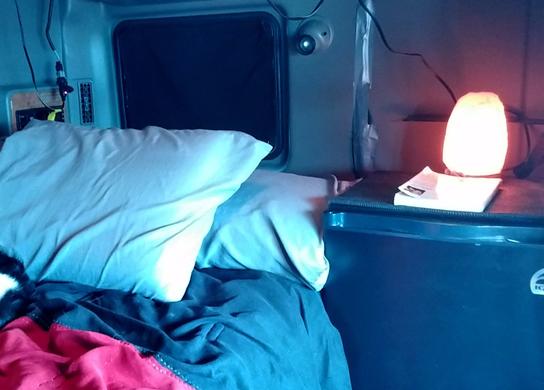 By Sierra Sugar
When you're an over-the-road truck driver, the cab and sleeper of your truck is your home away from home. Whether you are out for a few days at a time or a few months, that time away is spent living, eating, sleeping, working, and relaxing in the tiny space of your tractor interior. To make life on the road a little more comfortable, here are a few tips to keep your interior space clean and feeling like a livable space rather than just a semi truck.
Keep it clean. This one simple rule will go a long way to making a space feel less stressful and more relaxing. It is scientifically proven that dirty, cluttered spaces are bad for our mental well being. Luckily small spaces take significantly less time to clean and keep clean. 5-10 minutes a day is all you need to really to keep on top of things.
Use a small office-size trash can or even a small box to easily toss waste such as napkins, coffee cups, empty snack containers, and soda/water bottles. Empty these at every fuel stop and/or rest area.
Keep Windex or a spray bottle of half each white vinegar and water, along with paper towels handy to clean your windows from the inside. This is especially useful if you have pets on the truck that like to leave nose art on the windows.
Baby wipes and other disposable wipes like Lysol or Clorox are great for wiping down almost any surface, keeping them free of grim and germs.
Take your shoes off in the front seat before heading back to your sleeper. Your shoes track in dirt, mud, and grim from truck stops, fields, customer lots, etc... You don't want all that tracked back to your sleeper area where you relax and possible walk around barefooted, then those dirtied bare feet go up into your bed.
Keep a small broom and dust pan to sweep your floors once a day.
RoadPro makes a great 12v hand-held vac to vacuum your floors, counters, dash, seats, bedding, etc... This is great for cleaning up dust, dirt, food spills, pollen, and pet hair and dander.
Put dryer sheets behind your air vents in your sleeper, and even inside the recirculating vent of your vacuum to help control every-day odors.
Make a specific place for everything and always put it back in it's designated space.
Use small baskets, and similar containers to help organize cabinets, walls, counters, and shelves. Bungee cords are great for keeping things from falling off of shelves or from tipping over.
Command hooks help utilize vertical space like the sides of the sleeper, inside cabinet doors, and inside the bathroom and bathroom door if you have a larger sleeper.
Small tension rods are great inside cabinets to keep things from falling out and to hang bottles along.
S-hooks attached to other items like brushes, dusters, makeup bags, etc can also be hung on command hooks or tension rods. All these tips help keep things from bouncing around, falling in the way, and clutter free.
Decorate. Now that you've got things nice and clean, work on making your living space in your truck more personal and less cold and industrial. You will relax easier and sleep better if you have a comfortable surrounding.
Pick bedding (sheets, quilt, comforter, pillow cases) that are in a color or design pleasing to you. Whether you like primary colors, pastels, neutrals, muted, patterns, abstract, or whimsical, or whatever... just make the inside of your sleeper your own.
Get a coordinating throw rug for your sleeper and between your driver's and passenger seats. This will help cut down on dirt being tracked through the sleeper as well as reducing road noise. Plus it adds color to your interior.
Use museum putty or similar to secure small knickknacks to your counters. We've used this method successfully in all our trucks and in RVs. It held my salt lamp in place on top of our little refrigerator for over a year when we moved to a different truck.
Salt lamps are not just good as a pretty ambient or night light. They are also great for clearing dust from the air because they charge the air with negative ions like lightning does in a storm. The negative ions knock pollutants out of the air, increase serotonin which in turn increases quality of sleep, and they can help with improved mood and decreased depression. They also help negate electrical interference from all your electronic appliances (phones, chargers, CB, refrigerator, 12v cooking items, etc...)
Hang twinkle lights and other decorative items such as dream catchers, streamers, and pictures from your ceiling or top bunk.
Use a toy net in the top corners of your sleeper to collect pillows, bedding, stuffed animals, and other decorative or utilitarian items that look good on display.
Air plants and succulents are great additions to a truck interior because they require very little care and water to keep alive while providing some much needed greenery and oxygen supply. You'd be surprised how a few little green plants help brighten up a living space making it feel more comfortable and relaxing. These tiny pots or shells can be secured to counters and dash (passenger side being sure to not obstruct view) using museum putty. Or simply superglue a magnet onto them and place on magnetic surfaces like the front of your refrigerator or a mirror.
There are 12v diffusers and humidifiers out there for the inside of your truck to help add moisture to the dry interior air (A/C dries out the air). Add in a few drops of an essential oil like lemongrass or lavender to help decrease stress, and increase mental clarity and relaxation.
Decorate during the holidays. Hearts for valentines. Red, white, and blue anything for summertime. Fall colors, ghosts, pumpkins, and gourdes for Halloween and Thanksgiving. Christmas lights and ornaments for Christmas. We've used Christmas wrapping paper to wrap our cabinet doors to look like presents. There are even window clings for each of the holiday's to put around your side and/or back windows.
These ideas may all make sense to you or may seem silly and wasteful. But after living inside a semi 24/7 for several years, we found the more we made it a living space instead of just a vehicle, the more at home we felt in our small space.
Being an over-the-road driver, no matter if you have a regular sleeper or a big house, is the quintessential tiny living experience. Make it your home away from home. Your "man cave." Your "she shed." Your whimsical escape. Your music studio. What ever your want it to be! Fill it with color and art. Keep it clean and clutter free. Own it. Live it. Love it. And be happier for it in the long run.
Sierra Sugar is a blogger and writer with a passion for trucking, travel, adventure, tiny living, and cooking. Involved in the trucking industry for over four years, she has experienced living on the truck 24/7 for 3 of those years with her husband, Allen Wilcher, a 30-year veteran truck driver who currently hauls for the entertainment industry. For more on Sierra visit her website or follow her on Facebook or Twitter
Website: http://www.SweetLifeOfSierraSugar
Facebook.com/SierraSugar
Twitter: @SierraSugar