Trucker Appreciation - Sometimes It's the Little Things
September 11, 2019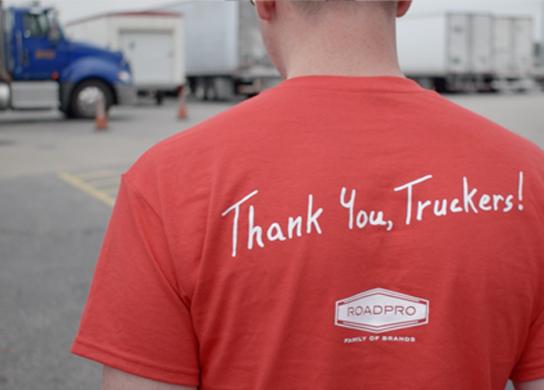 By Kim McDonnell
As many of you know there is a week set aside in September for Trucker Appreciation. During that week you will often see many events, special offers, videos or activities geared towards truck drivers to thank them for what they do. But many feel it shouldn't stop there - we at RoadPro certainly feel that way too. There are those that touch the lives of truck drivers every day – whether they are truck drivers themselves, the travel center employees, waitresses or others that work in the trucking industry who make appreciating truck drivers something they do daily, often without a thought. I recently reached out to several drivers and asked them if there was a time when they were on the road where someone went above and beyond what was expected, or if they were treated in a manner that they have never forgotten. I received a variety of responses and all of them different – some of them from years ago and others more recent. I would like to share these stories from the road:
Bill Weaver remembers a time about seven or eight years ago where he was coming through Rattlesnake Pass in Utah. There was a freak ice storm that came up and he was following another truck. Suddenly out of nowhere a car came speeding by both trucks and spun out on the ice. Being forced to stop on the icy road both drivers had to get out to chain up. Bill had broken his ribs a short time before and was struggling to get the chains in place when the other driver noticed he was having trouble he came back to help him chain up. Bill recalled, "He came back and asked if I was OK and when I told him I had broken my ribs the week before he immediately started to help." The other driver wouldn't accept any money for his assistance and told Bill a "THANK YOU" was more than enough. He did convince him to let Bill buy him a cup of coffee. "That was all those years ago and I still remember how he made a difference," said Weaver, "That small act of kindness stuck with me and I don't remember his name, but I remember what he did for me."
During a stop for a break and a meal at Uncle Pete's Truck Stop in Tennessee, Tom Kyrk remembers an encounter with a waitress named Tammy that really made his day. Having changed his route for several months he had not stopped at Uncle Pete's for a long time. When he sat down, he was greeted by Tammy as she had remembered him from previous visits. "Tammy asked me where I had been as she had noticed I hadn't stopped for quite some time," said Kyrk. He told her he would be back this way more often as his route had changed again and remembers that she smiled and said, "Welcome Home!" He has never forgotten that and how appreciated that made him feel.
Robert Greene shared a more recent story. When his mother was not well, and he headed home to see her he parked at the Flying J near his house. He paid for several days of parking thinking he would return to his truck in the next few days after his visit. He had explained his mother was not well so he was uncertain of when he would return for sure. Unfortunately, his mother passed away soon after he arrived home. His days were filled with planning to bury his Mom and until he got back to the travel center it was well after when he told them he would return. "When I got there, I told the clerk I wanted to pay for the extra parking and I would be a few more days," said Greene, "She told me don't worry about it, it's been taken care of." Greene at first was concerned that they billed the parking to his company but instead the clerk explained that the employees of the Flying J had heard that he lost his mother and they got together and paid for his parking. "I certainly didn't expect that!" said Robert "I got a tear in my eye for sure."
Most truck drivers will tell you that DOT inspections can be a nuisance. Although a necessary part of the occupation of driving a truck to ensure that you, your truck, as well as others are in compliance and safe, they are not a trucker's favorite thing due to the time it can take. Taylor Barker is no stranger to DOT inspections after driving for over 23 years and is a stickler about keeping his truck up to date and safe. He had recently spent about $11,000 to update his truck with various things like replacing the airbags, wheel seals and brakes, and was waiting in a long line at the DOT in Mississippi, when the officer pointed at him and told him where to pull in for further inspection. "When I got out of the truck, I told him, no matter what happens, I want to Thank You for your service," Taylor recalled he said to the officer with a smile, "He noticed I was veteran when he looked at my license, and thanked me as well." That launched a great conversation between the two of them while the officer inspected his truck. In the past Taylor very often assumed that these inspections were more about revenue than anything else. But quickly realized with this officer it was all about the safety of the vehicle and nothing to do with revenue. When the officer was finished, he thanked Taylor for caring enough to keep his truck in top safety condition and wished him well as he left. After Taylor pulled away, he took the time to call this officer's supervisor and told him how courteous and professional the officer was. After a long pause the supervisor responded and told Taylor he typically only gets calls complaining and never gets compliments. Before he ended the call, the supervisor thanked him and told Taylor if he was ever down that way again and needed anything at all just to give him a call. "I felt like I knew this guy for 30 years and he was one of my good friends," commented Barker, "I could feel the kindness, concern and hospitality."
It's not always about a week, month or day of appreciation– it can be a small act of kindness or a word that that will mean the most to another trucker. So, when you are out there on the road remember to be kind, share a smile, buy someone a cup of coffee or just appreciate those around you. It's the little things that go a long way.