What I Wish I Knew Then
January 29, 2020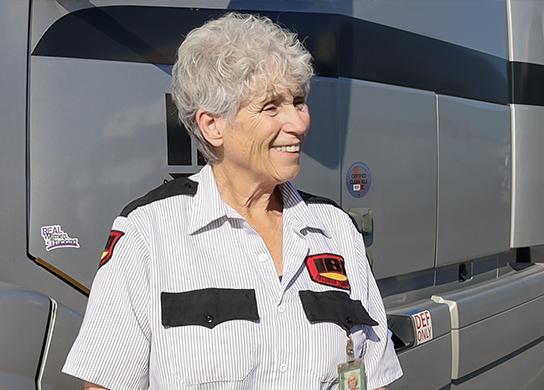 By Idella Hansen and Henry Albert
When you enter the trucking industry there are a lot of questions and many unknowns. You want to know what you can expect, how to figure out what is fact or fiction and what it will truly be like out there on the road.
We reached out to two veterans in the trucking industry and asked them to share their stories of what it was like when they started and what they would tell new drivers today. Here are their stories:
Idella Hansen
When I first started out nearly 50 year ago, I was afraid to ask questions or to tell those guys in the yard that I didn't need help unloading or need them to do things for me. I wanted them to show me how things were done not do them for me - so I could learn and do it on my own. Being a woman in the industry at that time I felt like I continually had to prove myself. I worked very hard to be the best – always trying to be the first in line and checking and rechecking my truck to ensure that I didn't have any violations. Looking back now I realize that was something that I put on myself and I worked harder than I probably had to. I also never questioned things back then as I should have. I never questioned why I didn't get that load or was made to wait at the dock when others did not. If something doesn't feel right – question it. You don't have to be rude or have a chip on your shoulder but if you have a question or concern you can state your position in a fair and proper manner. Don't expect special treatment because you are a woman but be up front and make sure you are firm with your expectations. My father always taught me to be independent and self-sufficient and to also not depend on anyone else to get your job done as you will be disappointed. With that advice in hand I have always went above and beyond and have never expected anyone to owe me or give me anything without earning it.
At first, I wasn't making the kind of money I wanted and realized that I could make the same working at the local convenience store with probably less effort. I questioned if I needed to choose a different career path - but I truly loved the trucking industry and driving. I needed to do something, so I started to network with other drivers and ask questions and realized that there was money to made, I just had to find the right company.
I found a job driving longer distances and doubled my money that first year. I continued to look for opportunities along the way to further my career and find the jobs that would pay me for what I do. Back then it was word of mouth and job boards posted at travel centers – now it is much easier with the use of the Internet and social media. I also learned that if it sounds too good to be true – it probably is – so investigate the company you are going to work for. Find out what other drivers are saying about the company. Do your homework and make sure before you join a company that you know the terms and conditions of your employment. Be aware of your rights and check the company's policies so you know what you are getting into when you sign up.
Henry Albert
One of the first things I noticed when I started out is that there was a certain stereotype about truck drivers. There were very low expectations on how we needed to present ourselves as it was not expected that we would be professional or be the best dressed. While my first job in trucking was with a private carrier that provided uniforms – when I left and became an owner-operator I remembered that you only have one chance to make a first impression. With that in mind I always dressed well and kept myself groomed. If you don't think people notice, they do. By dressing in this manner, it was perceived that I was my own boss and my focus was to make sure my customers where happy. I have found over the years if you operate in this way it will impact your business in a positive way and you will be successful. Sometimes it's the little things – attention to detail, your attitude, presenting yourself as an extension of the company you are either working for or with will impact your success greatly. I realized that marketing myself as an extension of the company I was delivering for created a demand for me to do the work versus someone else. I have also learned to always look for a need that is not being covered – finding solutions to the customers problems and figuring out ways to set myself apart from others.
Also, find yourself a good mentor, someone that has had success in trucking. I had a mentor who started his business with one truck and grew it to have 89 more trucks by the time he was 40. I used the knowledge shared as a model for my career.
Another critical thing that I learned over the years is never show up with logos on your shirt or apparel that promotes things customers might find negative. Dress like Switzerland – no politics, no company endorsements, derogatory statements or things that may offend others. Furthermore, why would you advertise for someone that was not paying you anyway? Dress like you deserve the job.
I also learned along the way to really do the math on the loads I chose. There are times when you may think taking a load for less might not be profitable but look at the numbers. If you are paid well for a load going in and only offered a lower rate on freight going out do not immediately assume you are not going to make money. Your expenses are already paid for the load you brought in so take the cheaper rate on the way out and you will still make money. Remember your profit is not based on one load but everything you do over the course of the year.
Idella and Henry are both members of the RoadPro Pro Driver Council and their combined time in trucking totals over 75 years. They both have travel centers named after them and are involved in various causes and organizations that impact the lives and well-being of fellow drivers. For more information visit www.roadprobrands.com/about/pro-council.