Cool Tech for a Cool Ride
March 13, 2020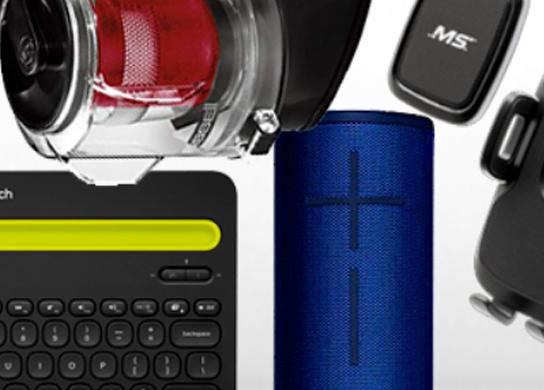 By David Hollis, Editor, Truckers News
Day to day life on the road is not getting any less demanding. As 2020 begins to unwind even the best of truckers have days when they appreciate all the help they can get.
Luckily there's no shortage of gear, gadgets and goodies available to enhance truckers' driving days and nights. Some are essential to the central mission of getting from point "A" to point "B" in a safe and expeditious way. Among the coolest equipment available are also items to make the trip easier and more enjoyable. Some even make it fun.
Smartphones
Among the coolest gear not just nice to have, but essential to the trucking life are the newest generation of smartphones. Most major manufacturers have new models available and among them are:
Samsung Galaxy S10 Lite, a slightly downscaled model of last year's S10e. Like its predecessor, it has a large screen and three cameras. Instead of a telephoto, the S10e has a macro lense for closeup photos. It also boasts a more robust battery.
The iPhone 11 is Apple's latest and comes with a dual-lense camera, a faster A13 chip, more durable glass and is available in new colors. There are also upgraded versions: iPhone 11 Pro and the iPhone 11 Pro Max, both of which come with more features and bigger price tags.
Google's latest phone is the Pixel 4, which also comes in a larger size, the 4 XL, both of which include fast, wireless charging.
Worthy of note is a smartphone that won't bust even the most modest of budgets. The $155 Alcatel 3L has three rear cameras and the look of a more upscale phone.
Android Smartwatch
This may be one of the cooler tech items you're likely to see these days. Modern as it is, this gadget will most likely remind truckers of a certain age of Dick Tracey's trusty wrist radio.
The TricWris Max smartwatch has 4G connectivity, quad-core processor, 3GB of RAM, 32GB onboard storage, and an 8-megapixel front facing camera. It also has built-in GPS; Wi-Fi and you can use it to make phone calls.
Mounts for Your Devices
Staying connected while driving is a must. So is doing it hands-free. Fortunately, MobileSpec delivers four styles of universal and adjustable mounts that keep your smartphone accessible, let you drive safely and meet your personal viewing preferences. They include:
Vent: Uses two clips to hold your phone securely. The adjustable swing arm allows you to position the device for easy viewing and so it does not block the air flow from the vent.
Dash: An extra-sticky gel pad keeps the mount, and your device, secure and where you want it. The extendable arm lets you adjust the height of your phone for optimal access.
Windshield: Comes with a long, flexible arm so you can affix the mount on your windshield in a legal position and still maximize viewing and access. Mounts with an extra-sticky gel pad.
Cupholder: With an adjustable base, this mount will fit just about any cupholder. Its three-way arm pivots so you can find the ideal viewing position.
All four allow for full 360-degree rotation, provide the best viewing angles and keep your device secure. They all let you switch between securing your smartphone with a magnet or in a cradle and come with hardware for easy installation.
Bluetooth® Speakers
There is no shortage of smallish, portable Bluetooth speakers, so there's no reason to not find one that suits your needs and your budget.
The UE (Ultimate Ears) Boom 3 Bluetooth speaker stands out even in this crowded field. Weighing in at slightly more than a pound, the Boom 3 is easily portable making it ideal for life on the road. It delivers superior sound, 15 hours of battery life and is water and dustproof.
Almost as cool is the JBL Charge 4. It has excellent sound quality, 20 hours of battery life, is waterproof and can be used to charge your phones.
A good portable Bluetooth speaker at a bargain price is the Tribit XSound Go. It's small enough to fit into a tight spot in your sleeper berth but still deliver big sound.
Trucker-Specific GPS
It's hard not to sound like a broken record when talking about an unsuspecting trucker winding up where they shouldn't simply because they followed -- always in good faith -- a map app on their smartphone. With states getting more aggressive about fines and other punishments for such mistakes, it's not just smart but necessary to have a GPS unit in your truck designed for the pro driver. Luckily, there are good ones available. Trucker favorites include:
Garmin's feature-packed dēzl 580 LMT-S has a bright 5-inch screen and the ability to sync with your smartphone for hands-free calling using the unit's microphone and speakers.
The TomTom Trucker 620 has a 6-inch screen, built-in WiFi and Bluetooth connectivity, delivers its impressive array of services by voice control and creates customized routes for your truck's specific dimensions, weight, cargo and maximum speed.
Rand McNally's TND 740 has a high-resolution 7-inch screen, and this fifth-generation truck-specific GPS delivers weather and traffic information as well as advanced lane guidance. It also pairs with Rand McNally ELD devices with the DriverConnect app.
Most good truck GPS units provide up-to-date maps including route changes.
Portable Fridge/Freezer
Much is made by many about the need for professional drivers to eat well when on the road. Often, that's easier said than done.
Having a convenient way to keep fresh foods in your truck is essential to maintaining a healthy lifestyle, and that means owning a good way to refrigerate food. There are many devices to choose from including an entire upscale line of ARB 12-volt refrigerator/freezers. The ARB 50-quart model ($884) main compartment is more than 13 inches deep, 11 inches wide and almost 16" inches high, giving you plenty of room for fresh produce or pre-prepared meals. It also has a separate smaller dairy compartment. Ausranvik also has a suitable 48-quart 'fridge/freezer ($320). There are also numerous smaller and slightly less robust plugins as well.
Bluetooth Trackers
Losing something -- your keys, your wallet, your laptop, your dog -- on the road can be disastrous. Bluetooth trackers you can affix to most items can help avoid problems when something goes missing. The Mate by Tile has a range of 400 feet and issues a loud alert you can sound when looking. Tile's Slim is about the size of three credit cards one atop the other so fits nicely in your wallet and has the same range as the Mate. All of Tile's trackers require its app. They also rely on the Tile online community of users who can help track things when they go astray.
Cell Signal Booster
Cellular service has come a long way since the days of vast expanses of the country suffering from low or no signal access. But, still, there are times and places where calls fade or drop, something today's pro driver can ill afford.
Wilson Electronics' WeBoost cell signal boosters eliminate dead spots and weak signals. Drive Reach, one of WeBoost's newest products, uses an exterior antenna to reach out to nearby cell towers, and sends the signal to the booster inside the truck cab. The booster then amplifies the signal and sends it to the interior antenna for access by the driver or passengers. 5-G ready, the Drive Reach is compatible with all cell phones, hotspots, cellular-connected tablets, and other devices on all U.S. carriers.
Bluetooth Keyboard
Truckers depend on their smartphones for a variety of chores, including some that require plenty of typing. Even the most skilled trucker can struggle with small phone keyboards. The Logitech K480 Bluetooth keyboard is an ideal solution. It pairs with up to three devices -- iOS, Android, Windows, and OS X -- and lets you quickly switch between them. A slot on it lets you prop up your phone and/or tablet, so they are easy to see. Battery included.
In-Cab Elliptical Trainer
Let's be honest, the typical American trucker (like many office workers) doesn't get the exercise they ought, especially cardio. The solution is not just parking far away from the restaurant or truck stop, so you add more walking to your day. The Stamina InMotion E1000 Compact Strider lets you get a workout without leaving your truck. It has a monitor to track your progress and its adjustable dial allows you to change the tension even as you work out. You can sit or stand to work out and pedal forward or in reverse.
Bluetooth Headsets
Few gear items are truly indispensable, but a reliable, hands-free headset comes close to being a true "must have" for professional truckers. Luckily, there are many good ones from which to choose. Among them:
The Plantronics 5200 uses four microphones and a proprietary DSP to cancel disruptive background noise. The 500 also announces the names of people on incoming calls and waits for you to say "answer" or "ignore" so you manage your calls easily. A single charge delivers seven hours of non-stop talk and up to nine days on standby, and it's comfortable enough to wear your entire driving day.
Rand McNally's ClearDryve 200 is a two-in-one Bluetooth-enabled headset/headphones. As stereo headphones, the ClearDryve 200 delivers the rich, clear sound you want when enjoying your playlist or streaming a movie when you are parked and relaxing. Remove an earcup and move the boom microphone into place, and you're ready to stay connected when you hit the road again.
Jabra makes a small, steel, ruggedized Bluetooth headset for use in demanding work environments, like trucking. This headset relies on HD voice and dual microphone technology to remove background noise and ensure clear calls. It features extra-large buttons for one-touch control, even with gloves on, and allows you to wear it with or without ear hooks.
BlueParrott's B350-XT provides up to 24 hours of talk time and can pair with two cell phones or a phone and a PC or tablet at the same time. It's lightweight and totally hands-free using BlueParrott's VoiceControl technology.
RoadKing's 950 features Bluetooth 4.1 and delivers up to 40 hours of talk time. Its extra-large memory foam ear pads and adjustable headband provide all-day comfort. And, it now has an adjustable mic.
Truck Vacuum
Keeping your truck clean is no small feat. That's why it makes sense to stash a small but powerful handheld vacuum cleaner somewhere in your sleeper berth. The Bissell Multi- Auto 19851 has the power you need and has the tools necessary to clean in those tight spaces. Powered by a 22-volt lithium battery, this vacuum has a removable dirt cup and 2-foot-long extension hose. A bright LED light on the front helps you see the work you need to do. A "must have" if you have a pet that rides along. Who better to help keep your truck clean but another trucker? Shane Schindler, the pro driver behind the Trukr Stick mirror squeegee, has created the Truck Vacuum, which uses your truck's air to power this handy cleanup tool. Remove the air nozzle and attach the Truck Vacuum and quickly clean your cab. While it requires no motor or batteries, it comes with a flexible hose, three attachments and a collection bag. So instead of blowing dust and dirt out of your cab, the Truck Vacuum picks it up.
For those messier and wetter jobs, RoadPro has a 12-volt wet/dry canister vacuum cleaner. It sports a 36-inch flexible hose with carpet, upholstery and crevice attachments and a long power cord. Its heavy-duty 12,500 RPM motor delivers the power for the nastiest cleanups.
Bluetooth Earbuds
Among the newest Bluetooth earbuds on the market are Jabra's Elite Active 75t, a waterproof version of the Elite 75t. Expect them to cost $200.
Skullcandy's Sesh True Wireless Earbuds deliver the excellent sound quality and upscale noise reduction for which the brand has become known. They have 10 hours of battery life, and feature easy to use microphone, call, track and volume controls. Silicone gels in three sizes help seal out background noise and make them comfortable enough to wear for extended periods of time.
MobileSpec's Wireless stereo earbuds are outfitted with Bluetooth 4.2 technology, and deliver three hours of talk time, two hours of listening time and recharge in just an hour. And, they will not break the bank.
Coffee Makers
Truck stops -- small independent ones or any of the major chains -- today serve coffee pretty close to what you enjoy at home or in most corporate java shops. But, often the need for a cup strikes when there's not a truck stop nearby, so having a good in-cab coffee solution is important.
RoadPro's 12-volt coffee maker brews up 20 0unces of coffee in 20 minutes and includes a reusable filter. Schumacher also has a similar 10-cup, 12-volt coffee maker. Both provide drip coffee the likes of which you enjoy at home.
We also like the idea of pairing a 12-volt hot pot to heat up water that you can pour over one of the handy portable brewers like the Aeropress system (which also allows you the luxurious option of brewing up an espresso on the road) or Kuissential SlickDrip collapsible silicone coffee dripper that holds a filter and brews directly into your cup.
But, the coolest way to brew up a hot cup of coffee on the road is the Presto 02835 MyJo Single Cup Coffee Maker. It uses K-cups and a hand-held plunger to make your favorite brew.
While sipping an espresso after a long day on the road may not be your cup of tea -- er, coffee -- what is clear is that life on the road even for the longest of long hauls does not have to be uncomfortable or distressing. The growing amount of cool gear available is making the life of the pro driver safer, less difficult and allows them to focus on the road when driving and relax when they are done.