Gear It Up – New Gear Coming to a Travel Center Near YOU!
September 18, 2020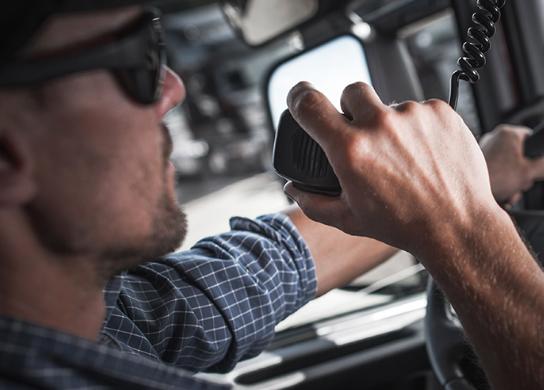 By David Hollis, Editor, Truckers News
Mess that it was, early 2020 gave the rest of the country a little deeper appreciation of what American truckers do on a daily basis. Drivers even made it to the list of "essential" workers necessary to keep folks fed and the economy functioning.
And, just as truckers are essential to others, there are tools and devices that are essential to drivers, no matter what sort of driving they do.
Because of that, we're always on the lookout for new, interesting, helpful, and convenient gear and gadgets to make drivers' lives easier, more comfortable, and even a little less hectic and stressful.
Here's a list of some of the ones we have seen lately.
Scipio Tactical Lights the Way
Of the few things which truly deserve to be called a "must-have" piece of trucker, gear is a flashlight, and not just any will do. Having a powerful, reliable flashlight often is a question of safety; it ensures you see and are seen. Fortunately, Scipio Tactical has an entire line of lights that provide what you need on the road and off.
Scipio's biggest and brightest model delivers 4,000 lumens, has an easy-to-use twist focus, has a COB (chip on board) LED bulb for a brighter light that uses less juice, features a rubberized grip, window-breaking tip and is rechargeable.
The company also offers similar tactical-style models (one with 2,000 lumens and the other with 1,000) that have Cree bulbs, high/low/strobe settings, zoomable beams, and are powered by either nine of six AA batteries.
For drivers who need a hands-free light, Scipio has a headlamp that delivers 1,000 lumens, has a zoomable beam, features high/low/strobe settings, and takes four AA batteries.
The lineup is rounded out by a smaller model with 180 lumens, Cree bulb, and a convenient pocket clip. It takes three AAA batteries.
Scipio also makes a full line of other tactical gear, including backpacks, gloves, knives, and pens. The Scipio product line can be found in travel centers nationwide.
Moto G Power: Affordable, Powerful Smartphone
Let's face it, not all of us want or can afford a custom rig with a luxury sleeper berth, loaded with chrome and a flashy paint job. The same goes for devices, even ones that are important to doing your job and staying connected while on the road.
That's why it's good that there's a smartphone like the Moto G Power from Motorola. Its battery is touted to last three days on a charge and allows you to have it on during your all-day drive with juice to spare if you want to listen to music or stream a movie once you stop.
The Moto G Power is loaded with Android 10, a Qualcomm 665 processor and 64 GB of storage. This slick new smartphone also has a 6.4" display and Dolby audio.
It also comes with a macro and super-wide-angle settings if you're into smartphone photography.
Convenient Belt Wallet & Phone Pouch
The last thing you need to do at the end of your driving day is to park your truck and make the long, slow walk into the truck stop for a meal, coffee, a shower or all of the above … and find out you left your wallet or cell phone on the seat of your truck.
Made of premium and durable 1,000 denier waterproof nylon, this classic low-profile pouch is the ideal organizer for accessories, cell phone, keys, small flashlight, multi-tool, and anything else you need readily accessible
This military-style pouch attaches easily to your belt and has two large compartments that zip closed.
RoadPro Meets COVID-19 Protection Needs
It wasn't all that long ago that the average American had no idea what PPE was. Now so-called "personal protective equipment" is part of just about everyone's daily routine, and is especially important for truckers who don't have the luxury of working from home.
The RoadPro Family of Brands knows drivers and their needs and now offers a line of personal protective equipment. RoadPro has:
One size fits all Nitrile gloves that are powder- and latex-free
Disinfecting wipes with 75% alcohol for all-purpose cleaning
Three-layer masks that have adjustable nose bridges, elastic ear loops, and provide easy breathability
70% alcohol hand sanitizer that contains soothing aloe and is fragrance-free; comes in a variety of size from one ounce to 65 ounces

Rand McNally's 2021 Motor Carriers' Road Atlas
If you have but one book in your truck, let the 2021 Motor Carriers' Road Atlas, published by Rand McNally be it.
Considered to be the bible of trucker travel, the atlas is available in paperback as well as a version with laminated pages and a stay-flat spiral binding. The new edition includes thousands of updates to its maps as well as revised regulatory and state/province information. This year, the atlas includes:
updated U.S. state and Canadian province maps, including the renaming of a section of Interstate 680 to Interstate 880 in western Iowa, adding Loop 202 around Phoenix, and updated interstates in Rhode Island with mileage-based exit numbers
revised restricted routes, low-clearance, and weigh station locations
a 22-page mileage directory that includes more than 40,000 truck-route-specific, city-to-city mileages
an updated fuel tax chart as well as revised state and province information including weight and size limitations, registration guidelines, and phone numbers and websites for state police and operating authorities
hotlines for road construction and conditions
updated toll system contact information for each state
updated review of hazardous materials regulations

Available at travel centers.
Wrap-It Storage Straps Tidies Up Cords
Storage on your truck is at a premium. That's why it's important all of your gear can be stowed without a hassle and remain easy to access.
Wrap-It Storage Straps solves the problem of errant device cords going astray. Made of strong synthetic and featuring industrial-strength hook and loop closures, Wrap-It straps come in a variety of sizes for various applications. Smaller ones are ideal for keeping charger and power cords in order. Larger, stouter ones can tame extension cords and jumper cables.
Helpmate Keeps Your Machine Clean
The vast majority of truckers on the road today appreciate a truck that not just runs well but looks good too. And, basic to that is a clean truck.
Helpmate has a variety of tools -- all that are durable and well-designed -- that can help keep your truck looking its best.
Making washing your truck easier are Helpmate's gear that include:
10" wash and dip brushes
Rugged tire and bumper brush
Extra soft detail brush
Super absorbent towel and microfiber cloths
8" squeegees

Helpmate, which is part of the RoadPro Family of Brands, also helps keep the interior of your truck tidy. It offers two sizes of mini-brooms and dustpans.
All of these tools are available at travel centers.
Samsung Smartphone Cleaner & Sterilizer
This may, at first blush, seem a bit extreme: a gadget to clean and sterilize another gadget. But, we can't be too cautious these days.
In just 10 minutes, this sterilizing gadget kills 99% of bacteria, and there is plenty of it on even the cleanest of smartphones. A nice side benefit is that it wirelessly charges your phone as it sterilizes it.
Mini Keurig Delivers Flavorful Brews
It is often said an army marches on its stomach, meaning it only advances if it has the food and other supplies to sustain it. The trucking corollary to that goes something like America's truckers are fueled by coffee.
While the truck stops and rest areas along the nation's network of interstate highways have improved the quality of their coffees -- some even offer Starbucks and that chain's long list of fancy espresso drinks -- many truckers still want or need to brew their own.
Keurig now offers the K Mini Plus brewer that is just 5.5" wide and uses the small capsules with numerous flavors of coffee, tea, and hot cocoa. It brews either 6 or 12-ounce cups. Keep in mind that this is not 12-volt, and you will need a power inverter to plug in to.
BlueParrott Offers Headsets with Walkie Talkie Function
BlueParrott's C300-XT MS and B450-XT MS Bluetooth headsets feature the new Microsoft Teams Walkie Talkie feature.
The Teams Walkie Talkie feature turns smartphones and tablets into walkie talkies that work over cellular or WiFi networks, allowing team members to talk instantly across geographic locations without standard radio range restrictions, according to the company. The Teams Walkie Talkie feature is always available for use, even when devices are locked or busy with another application, providing seamless collaboration. The feature is built to ensure walkie talkie communications are secure, and only authorized members can access each channel.
The BlueParrott C300-XT MS and B450-XT MS are among but a few Bluetooth wireless headsets that are equipped for use with the new Teams Walkie Talkie feature. The headsets use the exclusive Parrott Button to provide one-touch access to Teams Walkie Talkie Push-to-Talk, allowing users to engage with team members, customers, and others seamlessly while on the move.
Cheap And Easy Way to Store Your Earbuds
Many are the hours most of us have spent searching for our earbuds so we can attend a Zoom meeting call, or listen to music during our break.
Convenient and pocket-sized, this case keeps your earbuds tangle-free and easily accessible.
Made of flexible silicone, it has a slotted opening to hold the earbuds in place, and flips inside out to reveal a spool that you can wind the cords around. Flip the case back into the closed position, and the cords are neatly contained, unwinding easily from the spool when you pull your earbuds out again.
This handy little case can accommodate cords up to 48" long.
Black Canyon Helps You Pack For the Road
Few things are more annoying than being on the road and not finding what you need when you need it.
Black Canyon Outfitters, known for its affordable and durable trucker clothing and gear, delivers a variety of backpacks and bags to ensure your clothes and other personal items are where they are meant to be.
A member of the RoadPro Family of Brands, Black Canyon organizes your stuff with:
10" or 11.5" roomy hanging toiletry bags that are water-resistant, have built-in hanging hooks, and provide pockets for all you carry
Heavy-duty 22" x 32" mesh laundry bags to make your trek in to use the truck stop's washers and dryers easier
Backpacks -- 18" or 20" tall -- with padded shoulder straps, interior pockets in a variety of colors
Rugged duffle bags that are 18", 20" or 25" to accommodate all your storage needs
22" canvas sling bags with a zipper pocket
Traditional waist pack with two outside and one inside zippered pockets

Available at travel centers.
For When It Gets REALLY Cold … And It Will
Even the most comfortable sleeper berth in the newest truck is not the same as being curled up in front of the fire or nestled in your bed at home.
Because of that, we close out our list of new trucker gear with the Wearable Sleeping Bag Suit from Selk'bag, which is essentially a sleeping bag you can wear.
Instead of being one big bag, this suit has arms, legs, a hood, and openings for your feet and hands. It even has pockets, leg vents you can open if it gets too warm, and a side-entry zipper.