Cleaning It Up with Helpmate
May 3, 2021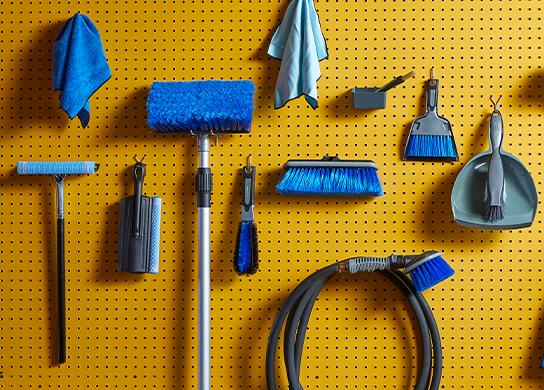 By Kim McDonnell
Spring is here, and with it comes the time when drivers look forward to cleaning up their truck, clearing away all the winter grime and dirt both inside and out. Some may also be looking for a spring clean-up on themselves too!
If you are one of them, RoadPro Family of Brands has some new products from Helpmate arriving at a travel center near you that can help.
The new line includes a full range of cleaning supplies from brooms to brushes and everything in between. All are made from durable, heavy-duty materials for a longer life. Providing many functions and capabilities for every task.
There is a selection of dustpans and brushes that include an 8 ½" mini pan and brush set to an extra-wide metal dustpan that measures 17" across.
Also included is an excellent selection of brooms and brushes. Including a heavy-duty tire bumper brush, 2-in-1 wheel cleaner, firm bristled wheel brush push brooms, and more. Several dusters for various surfaces include a 2-way dashboard duster to get into those hard-to-reach areas. A fiberglass handle extension pole completes the line when you need additional help getting to those higher areas.
A variety of squeegees are also available; from telescopic to compact, there is sure to be one or maybe even two that will be perfect for getting those windshields and mirrors clean and clear for the very best in visibility.
Helpmate also has a large selection of towels for any job. The multi-purpose towels come in a pack of three and cover a wide range of uses since they are made of an ultra-soft absorbent material and can be used on multiple surfaces. The micro-fiber drying towels are also a great pick to shine up your ride and to get off those water spots. Check out the other shop towels and multi-packs of microfiber towels that are sure to come in handy for daily use.
If you run out of your favorite shampoo or body wash, don't worry, Helpmate has you covered there too. You will find travel-size personal grooming products such as shampoo and shower gel to hold you over.
Here are seven essential tips for cleaning your truck for a great ride into spring and summer:
Carry a cleaning cloth and a small spray bottle of cleaner to spot clean areas that need attention.
Take out the trash properly dispose of it as your next stop. Please don't throw it on the lot and make someone else pick up after you!
If you cook and eat in your truck, stow or toss leftovers, wash the dishes and dispose of wrappers or containers regularly.
Make your bunk when you get out of it. It will give you a sense of accomplishment to start your driving day.
Use part of your 34-hour reset to do a thorough cleaning so when you start driving again; you're in a clean truck.
Have a pair of boots or shoes you wear when you leave your truck and a pair you only wear when you're driving. This cuts down on the amount of dirt you track into your truck.
Clean all your glass regularly. Clear visibility is a must, so wash your windows and mirrors often.