Dialing Back Diabetes - The Tiny Dixson Story
May 5, 2021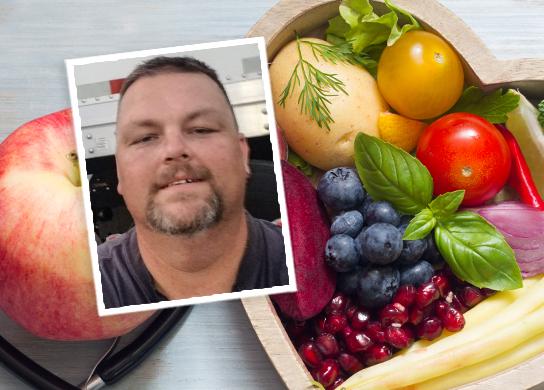 By Paul Marhoefer
"She literally threatened me with taking my driver's license away."
July 5th, 2018, was no easy day for Tiny Dixson. At 6' 8", 420 lbs., the Missouri-based owner-operator was an imposing figure. He was the kind of kind of guy you called 'Tiny' and hoped it didn't make him mad.
"I went to the doctor to get my D.O.T. physical. I always considered that as a two-year warranty on myself. Well, she checked me out, and ...my blood sugar level was 295, recalled Dixson. According to MayoClinic.org, a blood sugar level of 140 is normal.
"Back then, I was eating everything I could. Energy drinks, junk food, truck stop food. I had a big ol' belly. My face was all puffed up like Santa. They put me on Metformin and one other pill. Since I had no history of diabetes, she gave me a three-month (D.O.T.) certificate. I had to get everything down in three months. She literally threatened me with taking my driver's license away."
Anything white is not right.
The onset of type 2 Diabetes, and the very real prospect of losing his livelihood, had gotten Dixson's full attention.
"I started a regimen. At six in the morning, I'd eat two eggs and a little coffee. At noon, I'd eat a Subway salad. At six in the evening, I'd have a crockpot meal of chicken and veggies. I called it diabetic stew. I'd use chicken, broccoli, cauliflower, green beans, peppers, jalapeños, and crushed red peppers."
"I knew I had to start walking 30 minutes every other day. It was a pain that first 30-minute walk. I could see what bad shape I was in. I started sweating again. Sweat is so important for the human body. Lots of drivers don't think they have time to do a thirty-minute walk. You can, if you plan your trip."
He got serious about knowing his numbers. "I was (testing) myself every day. I still do. After a month of this, I started seeing my sugar going down. I quit taking Metformin, but I was getting tired of that same old chicken and vegetable stew. TA's and Petro's have all you can eat fish every Friday. You can eat all the fish you want, just don't eat it fried. And you don't want any kind of bread, pasta, or potatoes. Anything white is not right. After 6 PM, I had nothing to eat. Sometimes I went to bed hungry, but it's better to be hungry when you're sleeping than when you're driving."
"TA's and Petros really saved my life. When it was too bad outside to walk, I would work out on their weight machines. I bought a sauna suit and kept walking. You've got to get that core temperature up. Using Google health goals, I was hitting 6000 steps every day. I could now finish my eleven hours and still walk."
"I went back to the doctor after three months. She issued me a one-year certificate."
In the course of the last two and a half years, Tiny was able to shed and keep off 70 pounds. Despite some daunting personal and financial setbacks in the early part of this year. He remains diabetes-free.

Paul Marhoefer, known in the trucking community as Long Haul Paul, has been trucking off and on since 1979. In addition to being a seasoned truck driver, he is also an accomplished musician whose gritty ballads reflect the hardships and joys of a career which spans four decades over the road. You can find out more about him at longhaulpaul.com.