Take a New Approach to Your Health
July 7, 2021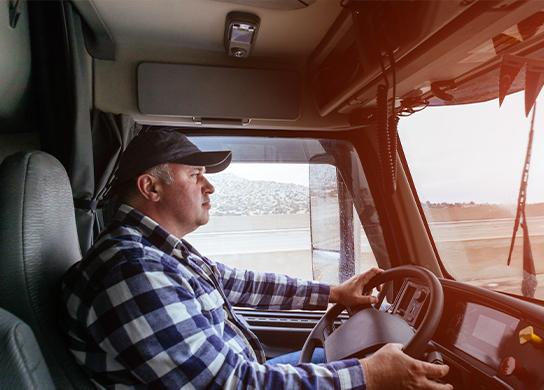 By Julie Dillon, Health and Wellness Manager for St. Christopher Truckers Fund
The St. Christopher Truckers Fund (SCF) is a 501(c)(3) non-profit organization that serves over-the-road semi-truck drivers across the nation. The SCF has two missions of service. The first mission is to help drivers and their families when an illness or injury has recently caused them to be out of work. After being approved in the application process, this assistance is in the form of direct payments for rent/mortgage, utilities, insurance, and vehicle payments. The second mission is to make the truck driver population one that is healthy physically, mentally, and financially through prevention programs and education.
One study of truckers showed that over 70% of drivers interviewed had at least one health issue such as diabetes, high blood pressure, obesity, or smoking. With this and our health prevention mission in mind, we implemented a smoking cessation program (Rigs without Cigs), a CDC-recognized Diabetes Prevention Program, a vaccine program, and an annual Driven to be Healthy health challenge.
The Rigs without Cigs (RwC) tobacco cessation program has been a huge success since its inception in September of 2017. To date, we have assisted 135 people in breaking the chains of their tobacco habit, and we have helped another 110 people cut their usage in half or more. RwC is available to all active Class A truck drivers. The program offers three methods of quitting, along with tips and tools to aid in becoming tobacco-free. Weekly accountability and encouragement are key to the success of the program. Road Pro Family of Brands, the program's sponsor, offers Road Pro Rewards Points to drivers who quit smoking when they reach milestones in their new life as a non-smoker, in addition to prizes for achieving specific goals.
One driver has this to say about the Rigs without Cigs program. "I am happy to report that I am both smoke and cancer-free! Thank you so much for your assistance. We are not only saving tons of money, but also enjoying good health." If you would like to be one of our success stories, you can register for our program anytime at Rigs without Cigs. Did we mention there are prizes for those who quit smoking?
Driving Down Diabetes, the SCF's diabetes prevention program is FREE for all Class A CDL professional drivers who are at risk for Type 2 diabetes. We encourage each driver to participate in this evidence-based lifestyle change program to reduce their risk of type 2 diabetes. The program includes a CDC-approved curriculum, a lifestyle coach specially trained to lead the program, and a support group of people with similar goals and challenges. The program offers weekly webinars focusing on nutrition, exercise, stress management, and more. One participant stated, "It has helped me see the way to good health. While driving down the road, I'm driving down the chances I'll develop diabetes". Another participant said, "By participating in this program it has educated me on eating habits, sleeping habits, and exercising even if it is as little as walking around your truck. I recommend every driver participate". Visit Driving Down Diabetes to see if you may be at risk of diabetes and/or to register for our program. The program's sponsorship by Southern Recipe has allowed us to provide scales, blood pressure monitors, activity trackers, resistance bands, and Eating Well magazine subscriptions to help ensure success in the program.
The SCF vaccine program offers free vaccine vouchers for all professional over-the-road truck drivers with a current Class A CDL who do not have health insurance. Drivers can receive free flu, shingles, and pneumonia vaccines with the utilization of a voucher. The vaccine vouchers can be obtained on the SCF website and can be used at any Walgreen's, Kroger, or The Little Clinics. Shingles and pneumonia vaccines are available year-round, while flu vaccines are available September-March.
Driven to be Healthy is our yearly six-week health challenge in conjunction with Mother Trucker Yoga. Last year, we had over 50 participants in the program learn how to live a healthier lifestyle while on the road. We focus on the five essentials to a healthy life: water, food, air, sleep, and movement. At the end of the challenge, drivers feel better and are empowered to make simple changes with a big impact, and some even lose weight. Our next challenge will begin in mid-August. Be watching for your chance to register.
If you are interested in being part of any of our wellness programs, please contact me at julie@truckersfund.org or 865-544-8145. You can also visit our website for more information.

About Julie: Julie Dillon is the Health & Wellness Manager for St. Christopher Truckers Fund. Julie is passionate about helping drivers live longer and feel their best. With her expertise as a Therapeutic Nutritional Counselor, Clinical Herbalist, and certified Holistic Health Coach, you can be assured she has the knowledge to help you succeed in any of the SCF's programs.