Praise and Gratitude
September 6, 2021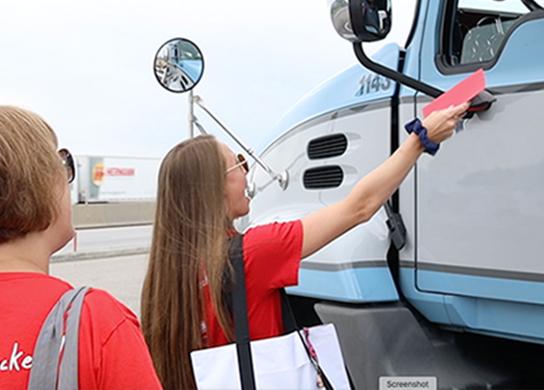 By Kim McDonnell
Each year, a week in September is set aside for Trucker Appreciation. This year that week is September 12 – 18. Many drivers I talk to say truck drivers should be appreciated all year and not just one week. RoadPro would agree that praise and gratitude should be shared with truckers for more than just one week, especially with what has transpired in the last 18 months.
Not only were truckers considered essential and working through the entire pandemic, but they also were subjected to conditions that were not ideal. Lack of food options, safe places to park, closed facilities, not being able to use bathrooms at the shipper, the list goes on and on. Stories filled the news of drivers, who were bringing everyone all of what they needed while not having their own needs met.
This year more than ever, truck drivers should be proud of what they have done to keep America moving in a time of crisis. Most would say it wasn't any remarkable feat, and they were just doing their job. But one thing that was evident was that more of the general public realized that we would have nothing without trucks. Maybe some would say that isn't true - but I have seen it, I have heard it, from those that went out of their way to show that truck drivers are appreciated. From a guy in North Carolina who cooked up free bar-b-q meals to serve to drivers to the women in Arkansas who handed out bags filled with hand sanitizer, masks, and toiletries, members of the community took it upon themselves to make sure that truck drivers knew they were appreciated. An Alabama high school girl started Project Feed a Trucker, and she and her mom made sack lunches and shared them with any trucker who stopped at a rest area on I-85. A 13-year-old West Virginia whose dad is a trucker used his allowance to buy food for truckers. These are only a few of the many stories I heard about people that realized those things they conveniently got delivered to their door all were because truckers never stopped.
If anything, many truck drivers felt there was more of a mission to keep things running as smoothly as possible to keep shelves stocked, businesses running, and getting hospital's much-needed supplies. And for that, we are truly grateful for your service and dedication.
We have all seen the statistics – what would happen if trucks stopped? Within 24 hours, we would run out of basic supplies, mail and package delivery would cease within one day, food shortages would begin, fuel for our vehicles would become scarce – and that is just in the first two days. I don't even want to imagine a world without truck drivers. Thank you for being out there and for keeping American moving – RoadPro would like to extend our Praise and Gratitude to you. Happy Trucker Appreciation, we are thankful for you every day!