Top Ten Things to Have in Your Truck
November 1, 2021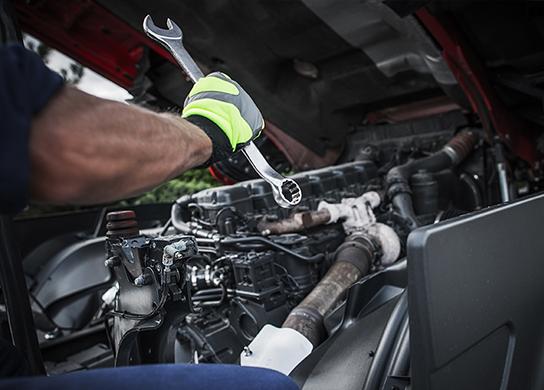 By Craig Daniels
There are certain things as a truck driver that you should always have in your truck. Of my "top 10 things," one of the first is related to hygiene. I always have everything I need to use for a shower and make sure I always use it. It does no good to show up on time with your load to establish a relationship with the customer if you put out more BO than a defensive skunk. Be clean, act clean, talk clean, and you will go far.
Tools can vary depending on what responsibilities you have with your truck and/or load. A basic pair of Crescent Wrenches, pliers, and screwdrivers are always a good thing but don't rush out to flag down the Snap-On guy and mortgage your home to impress the next guy. A basic set will save you time and money on simple things like changing mudflaps (stored under your mattress). Duct tape and even some of that newfangled "Flex Seal" tape can go a long way.
Spare parts. Even if you have a fancy new truck with LED lights, the green book still says you need to have fuses and bulbs on hand. Do you need an airline with a tire Chuck on it? No. It's nice to have sure, but you don't need it. Oil is always good to have, of course, and usually, a reefer unit will use the same oil as your truck. If you have a trailer that uses pop-in-style lights, you should have one or two of each kind as a spare. Unfortunately, someone else may think they need yours more than you do, and if you have one on hand, you can save the high mark-up of buying a new one.
Rubber bands, straps, or whatever you call them are also a must-have even for freight haulers. Sometimes you might be missing the tie-back chain or hook, but you still have to back into a dock with your doors open.
Washer fluid and water for your radiator are apparent. Some things are job-specific. Reach out to the older hats around you and ask them for suggestions. I don't chain link because I don't need one in a reefer, but you might if you are flat bedding. Use your head.
Always have rain gear and a coat. These two combined can make a big difference. If you are trapped in a survival situation, these can be layered or helpful by themselves.
You may have a different opinion on what your TOP 10 should be, but in my experience and from what I have learned in my career, my TOP 10 are items you should always have.
Craig "10ring" Daniels has been driving for Crete/Shaffer/Hunt for the last seven years and is a million mile safe driver. Daniels is an Army veteran who went into heavy equipment repair after serving, and that led to almost twenty years of building roads by running asphalt plants, rock quarries, and paving crews. He tried his hand at his own business as a subcontractor, but he started driving truck when the economy tanked in '09. He has been led to help and guide others along the way in what he calls divine intervention. He has trained and mentored other Crete/Shaffer/Hunt drivers, helping new family members with policies and procedures unique to the company. He has been exposed to some special people who have taught and continue to teach him the force's ways and is proud to call a few good friends he values and takes their knowledge to heart.