Five Simple Steps for a Healthier 2022
January 6, 2022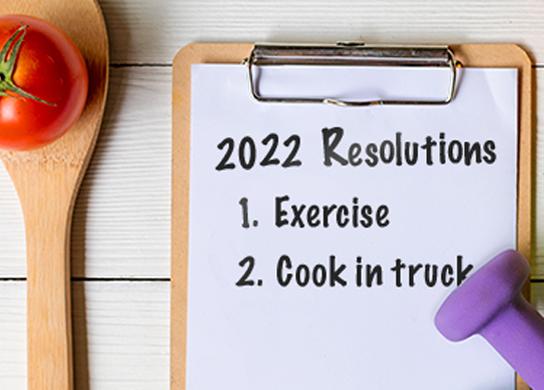 By Kim McDonnell
Let's face it, this last year hasn't been great, better than 2020, but still not great. COVID is still ongoing and changing every day; fuel prices have gone up over $1.00 a gallon this past year, supply chain issues caused significant headaches, the weather – need I say more. All of this can only add additional stress to an already stressful profession like trucking.
I am sure you have seen all the studies that truckers are more likely to smoke more, be overweight and have diabetes as they don't have the chance to hit the gym every day, and food options at the places they stop may not be all that healthy. But with a bit of planning and effort, you can make the changes not to be a statistic.
Move - Get out of your truck whenever you can and move – even if it is only 10 to 15 minutes, will be beneficial to not only your waistline but to your mental health as well. If you say it can't be done, it can – park farther away from the truck stop, walk around your truck several times as you do your inspection. If you stop at a rest stop for a break – take the time for a brisk walk. Breath in the fresh air which is also good for your mental health. You may also have the opportunity to stop for the night at a truck stop or travel center that has walking trails nearby – get out and explore.

Cook in the Truck – It can be done with a bit of planning, and there are many appliances out there that will work well, including RoadPro's 12-volt line of cooking options. There are many easy recipes to be found on the trucking cooking groups or RoadPro's website. This will control the calories you are putting in your body and control your costs. The meals will be far more satisfying if you know what you eat.

Make Better Food Choices – If cooking in the truck is really not for you, you don't have to eat salad all the time, but be mindful of the calories you are taking in. Many restaurants and fast-food chains either place the calories right on their menu or will provide if you ask them. Skip having that pizza with all the toppings or that bacon burger with extra cheese. Maybe pick up fruit, veggies, and dip or nuts and snack on those instead of the chips. You will feel better and most likely will lose weight.

Watch Those Liquid Calories – Switch from soda to water, and if plain water isn't your thing and you need that fizz, there are good no-calorie sparkling waters or seltzers to choose from that are sure to satisfy that craving. While juices benefit, they are also full of sugar and calories – don't drink your fruit; opt for fresh fruit whenever you can. Try to read labels of energy drinks – as often; there are hidden sugars in those that can add up.

Rest and Restore – Being a trucker often means long hours, which can be challenging to get the right amount of sleep and rest. When you stop for the day, you may find it hard to relax. It is important to create a comfortable and relaxing environment in your truck. Make sure to invest in a good mattress and bedding. If the truck stop where you parked for the night is noisy, use earbuds with relaxing music, or listen to sleep mediation apps or white noise to block it out. Pay attention to your mental health too and do things that you enjoy, reading a book, listening to or playing music, exploring the area. Whatever it is, that will allow you to restore and put you in a positive mindset for the next run.
Making simple changes can positively impact your health. Who knows, you may lose weight and be in better shape by this time next year. While the life of an over-the-road driver is not always easy – you can make some lifestyle changes that can help make it a smooth ride.