Power for the Pro Driver
July 1, 2022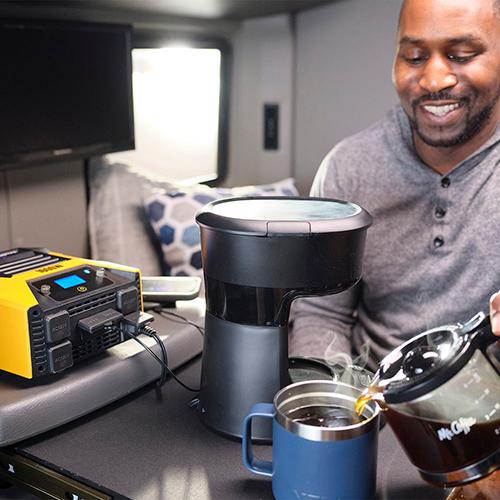 Written by Dave Hollis
Many are the times even the best, most experienced professional driver can feel powerless on the road. There's severe weather, hours of traffic congestion, miles-long construction zones, interminable waits to load or unload, and the lack of a parking space as the final minutes tick off your ELD.
But, one thing that won't leave you without the power to deal with whatever inconveniences the highway throws at you is a reliable inverter to charge your devices, cook healthy meals, keep you connected to your family and office colleagues, and ensure your overall well being.
PowerDrive, a member of the RoadPro Family of Brands, has a new line of rugged and reliable power inverters loaded with exclusive features that can help meet all those needs and more. The PowerDrive line of 15 different inverters – from 30 watts to 3,000 watts – is due out later this summer and will be available at most truck stops, travel centers, big box stores, and online.
The PowerDrive Plus inverters are more durable, robust, and designed to meet all your electrical needs, from recharging a smartphone to reliably operating major appliances. These are hardwired to your truck battery and installed someplace in your cab that is out of the way but also clean and easily accessed.
The new PowerDrive line of continuous power inverters includes models that deliver 3,000 watts; 2,000 watts; 1,500 watts; 1,000 watts; 750 watts; 400 watts; and 250 watts. This selection allows you to install an inverter that most closely aligns with your electrical needs.
Calculating the size inverter you require is pretty simple: just look at the devices and appliances you rely on in your truck; each has a label telling you how many watts of power they require. Just add up those amounts.
Another way to decide is to take the wattage of the device or appliance with the highest draw and simply double it.
What sets the new PowerDrive Plus line of continuous power inverters apart from others in the marketplace are the features on them.
The larger capacity inverters – 3,000; 2,000; 1,500; 1,000 watts – all have: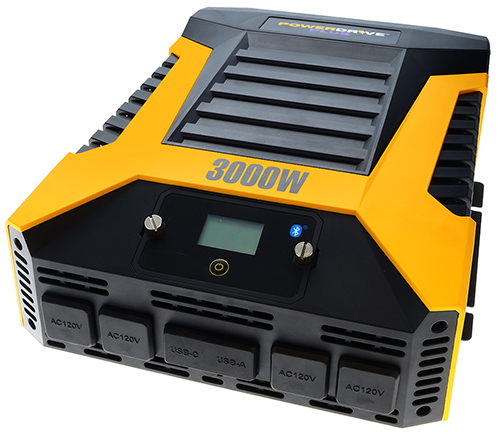 Four three-prong AC outlets with port covers
USB 2.4 amp charging port
USB-C 3.0 amp fast charge port
39-foot-long cables
Short circuit, temperature, and overload protections
The smaller capacity models – 750, 400, and 250 watts – all have: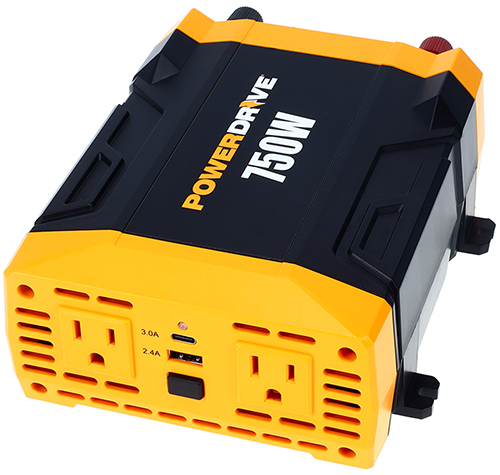 Two three-prong AC outlets
USB 2.4 amp charging port
USB-C 3.0 amp fast charge port
36-foot-long cables
Short circuit, temperature, and overload protections
Regardless of size, the PowerDrive Plus inverters all can be accessed and controlled by an exclusive app and Bluetooth connectivity. This allows you to monitor and control your inverter from your smartphone.
These PowerDrive Plus inverters all deliver modified sine wave power, the kind required for maximum performance.
If you're a handy DIY'er or if your company's maintenance shop does the work, the PowerDrive Plus line includes two installation kits to get your inverter where it belongs and functioning.
One kit includes 72 feet of extra heavy-duty cable, which can handle up to 3,000 watts. The other can accommodate inverters up to 1,500 watts. It comes with 60 feet of heavy-duty 2-gauge cable.
Demands have never been greater for professional truckers than they are today. And while there are many you can not control, there certainly is one you can: having the capacity to operate the devices and appliances that make your driving day, safe, more comfortable, and properly connected. Having a reliable PowerDrive inverter does that.