A First-Timer's Guide to Buying a CB Radio
October 1, 2017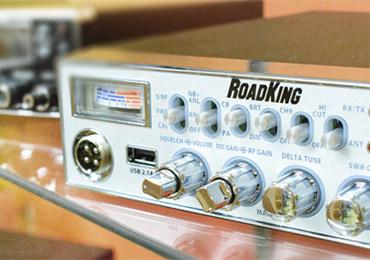 Today's young drivers were born well after the CB radio's heyday in the 1970s.
Drivers too young to remember Convoy and BJ and the Bear might be surprised to find that CB radios can still be found in most cabs.
While they have been supplemented by cellphones and GPS, the CB radio still does things the other devices can't and play a major role in keeping drivers informed and safe on the road. For example, you don't know the cell phone number of another trucker that might be ahead or behind you on the road – but you can communicate to them on your CB to share valuable information on traffic conditions, accidents, detours or even to find the best place to stop and get a good meal or cup of coffee.
But how should a driver who's never owned (or even used) a CB know what to buy? The radios look similar and share many features, but prices can range from $50 to $200 or more.
We asked an expert – Gary Hill, category manager for CB accessories brands at RoadPro Family of Brands, which manufactures and distributes CBs and accessories.
It's important to know that a complete CB package comprises four parts: the radio, mic, antenna and the coaxial cable connecting the antenna and radio. All four need to work together to achieve maximum performance.
Radio
The CB radio is that rare piece of electronic technology that has largely remained unchanged for decades. In fact, the last major change came in 1977 when the FCC increased the number of channels to 40 from 23. Most of the changes since have been cosmetic (LED-lit displays) or supplemental (USB charging ports).
Look for reputable manufacturers like RoadKing®, Cobra® and Uniden®. Avoid the cheapest entry-level units because the professional driver will want the additional features that come with professional models. Ask veteran drivers what models they like, which features they use and shop accordingly.
Mic
Most every CB radio is equipped with some sort of mic, but most professional drivers opt to upgrade to a higher quality microphone, said Hill. Companies like Astatic and RoadKing make noise-canceling mics that offer much better sound quality than factory-issued ones, he said. Most drivers elect to keep a second mic in their cab in the event that the current mic would malfunction or break.
Cable
It's tempting to save money by buying a lower grade cable but that would be a mistake, Hill said. A cable with insufficient shielding will cause loss of signal and external interference. Look for a cable that is 97% shielded. There are three types:
RG-58 – For single antenna installations and for jumper wires between the radio and a test meter
RG-59 – For dual antenna installations only
RG-8X or Mini-8 – For single antenna installations or as a jumper between pieces of equipment

The length of the cable is important as well, Hill said. While it might seem logical to use as short a length as possible, in this case, longer is better. For complicated electronics reasons, an 18-foot cable is best, even if it is longer than needed. While it is tempting to roll up the excess into a bundle, that can cause interference. It's better to unspool the length as much as possible in the cab while making sure it doesn't get tangled in anything.
Antenna
Antennas come in a variety of types and designs by material, length and location of the coil, which can be base-loaded, center-loaded or top-loaded. Each type has advantages and disadvantages. Whichever type you use, make sure you mount the antenna at the highest point possible on your truck but low enough to clear underpasses and trees.
Antenna whips can range in length from 1' to 8 ½', with the most popular being 3' to 4'. They can be mounted on side mirrors, roofs, bumpers and elsewhere.
Keep them clean of dirt, oil, snow and ice and check the sheathing on a regular basis for nicks or holes.
Tuning
Once all the parts are in place, it's time to tune the system.
RoadKing and several other brands have built-in SWR (Standing Wave Ratio) meters which make it easy to tune radios and antenna to each other. The SWR measures the amount of power being transmitted through the antenna, which determines how far the signal travels.
Using the SWR meter as a gauge, incrementally lengthen or shorten the antenna until it is performing at maximum efficiency, (Detailed instructions can be found in the manual). If the radio you buy does not have a built in SWR meter you can buy one separately. Many drivers can tune their own radio, but if you need assistance most truck shops can tune them for you.
Price and Longevity
How much should a driver expect to pay for a good system and how long will it last?
Hill estimated the price of a pro-quality system is typically around $200 for the radio and accessories. Keep an eye out for sales and rebates that are often in place to help offset the cost of the system.
The life of the system can vary depending on the use and care of the unit, but can reach up to 10 years or longer, with the microphone typically lasting around four to five years.
Antennas aren't so lucky. A low branch or ice buildup can destroy an antenna. The more a truck is driven, the shorter the antenna's lifespan. Expect to replace them every few years.
Once in place, a CB radio system will give drivers the additional safety measure they need on the job, Hill said.
"Most veteran drivers still rely on CBs," Hill said. "They know how important they are to safety."