Breaker, Breaker...
September 30, 2017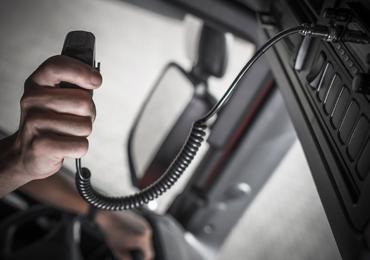 By Toby Bogard (aka Trucker Toby)
"Breaker 1-9! Is anyone there? Come on back truckers and talk to Teddy Bear!" This was a line from one of the most iconic songs in the trucking industry, Teddy Bear, written and sung by Red Sovine. Sovine, along with C.W. McCall and Jerry Reed, are three names synonymous with two things, music and trucking. However, that's not the only thing they have in common -the songs they sang all had a connection to trucking camaraderie and the Citizens Band Radio, more commonly known simply as the CB radio.
In the 1970's the CB became a must have for just about anybody that drove, especially for truck drivers. During that time the CB was used during the fuel crisis to not only find the best prices but also availability and truck drivers used the CB to organize convoys to protest the high gas prices and new trucking regulations. Trucking movies, such as Smokey and the Bandit and Convoy hit theaters and drive-ins across the country and everyone wanted to be the Bandit or Snowman. The impact of the CB radio was so large that in 1978 then President Jimmy Carter declared October 4th National 10-4 day. CB sales skyrocketed, and just like those movie screens cash registers across the country lit up.
Fast forward 40 years and there's a new generation of drivers on the road and they have a saying "There's an App for that." To their credit in most cases this is true, as I do App reviews and often come across a few that are very impressive. However, a recent experience with a new driver caused me to ask myself a question. He had been driving about a year and while trading trucks told me he was giving away an almost new CB, when I asked him why, he said he never even turned it on! So why should we as drivers have a CB radio in our trucks with the all the technology available?
There are several reasons that come to mind as to why EVERY driver should have a CB radio in their truck and have it TURNED ON!
The most obvious is that it is 100 percent ILLEGAL to use a mobile device of any type while driving a commercial vehicle. The fines are steep, and the price is too high.
A CB radio can be used to find out what kind of road or traffic conditions are ahead along your route. You can communicate with other drivers who have just been through that area and find out where the construction zones are, how the weather is impacting the road surface or even where to stop for the night. Plus, there are no contracts involved – it is totally free!
CB radios can also help with humanitarian efforts. Many drivers have worked in conjunction with Amber and Silver Alerts to save the lives of countless children and elderly.
Human trafficking is an epidemic in this country. And drivers armed with a CB radio are a first line of defense against it. Truckers Against Trafficking is a wonderful organization inside the industry that has saved countless children from this terrible fate! Ask any one of the children that organization has helped save and I guarantee you they will be grateful that the driver that helped save them had a working CB.
Missing Driver Alert Network is another wonderful organization that every trucker should be involved with. In addition to social media posts, drivers can use their CB to send out the word immediately to other drivers in the location of where the missing driver was last seen. The use of the CB is a direct form of communication to others in the area saving time that could result in the difference between life and death.
In my 16 plus year career I have NEVER found an App or replacement for my CB radio. It is a resource and tool whose value is being overlooked by newer drivers. There is no App that will communicate with another driver up ahead to tell you which lane is closed ahead in a construction zone. There is no App that can warn a driver behind you of an accident or bad road conditions that they need to be aware of. There is no App that can develop a brotherhood or camaraderie like communication on a CB.
While social media today connects us with family and friends while on the road – Facebook Instagram and Twitter cannot do what the original social network- the CB Radio – can do. The CB radio is a lifeline to our customers, dispatch and other drivers on the road.
So, to that new driver that wanted to give his CB away – give it a try - and find the many reasons why to veteran drivers there is no replacement for the value of the CB. it still is a necessity on the road – there is no APP that can do what a CB radio can – it's that simple.
This is Trucker Toby and I am 10-10 on the side!
Toby Bogard's driving career spans 16 plus years and he has written and published two books – On the Big road and Semi-Aware. He currently drives for STAR Transportation out of Nashville, TN and has logged over 1.5 million miles. He has done countless product reviews and testing for numerous companies and was a spokesperson for COBRA Electronics and Blue Tiger USA. His passions include being an advocate for driver awareness and health and wellness. Outside of trucking he is driven by his strong sense of family. In 2008, due to a family tragedy, he has spoken across the USA to teens about the effects of suicide called Life is Like Legos. You can follow him on Facebook by searching Trucker Toby or on Instagram and Twitter by searching TruckWriter.